UPDATE:
They say all the girls love a bad boy – and that adage would appear to be true in this particular case.
Meet Jeremy Meeks, one of four men who were arrested during a police project targeting shootings and robberies earlier this week in Stockton, California.
With his full lips, piercing blue eyes and chiselled cheekbones, Meeks's striking appearance has garnered him a lot of attention.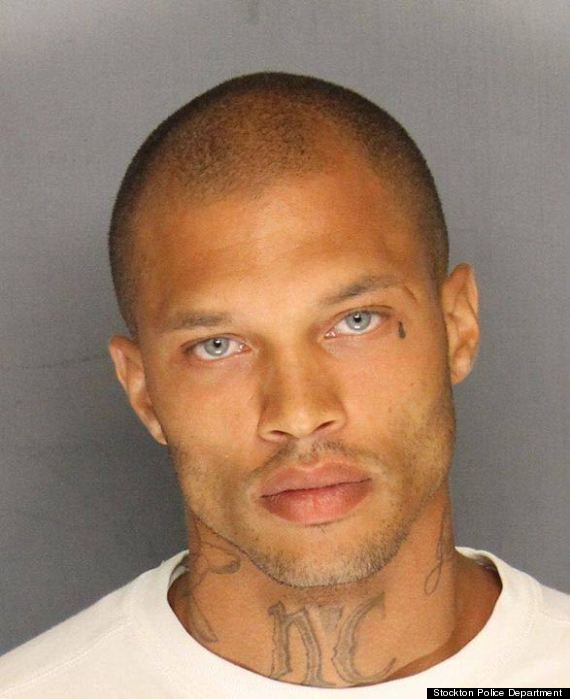 Jeremy Meeks was arrested on felony weapons charges

His mugshot was posted to the Stockton Police Department Facebook page on Wednesday, and at time of press had been shared nearly 5,000 times and had attracted close to 50,000 "likes".
"Hottest criminal ever!" remarked on woman, with another musing: "God he has beautiful eyes."
SEE ALSO:
While one commenter conceded: "He may be a tad bit cute, but with six felonies he ain't that cute," another followed right up with: "My oh my! Undies just fell right there."
Stockton police officer Joseph Silva told the Associated Press: "I have not seen that many likes for a photo before."
He described the convicted felon as "one of the most violent criminals in the Stockton area" though declined to provide details of any of the crimes Meeks is alleged to have been involved in.
The 30-year-old was arrested for felony weapon charges and his bail is set for $900,000.
He is due to be arraigned on Friday afternoon.
Arrested for: Drink-driving.

Arrested for: Beating up a bus driver. She was found later at home where she dropped her underpants in front of police.

Arrested for: Breaking into the Rice Northwest Museum of Rocks and Minerals. He was later found in, yes, a wooded area.

Arrested for: Flight. As in, fleeing from the authorities. Not actual flight (see Batman).

Arrested for: Domestic violence.

Arrested for: Hitting a man on the head with a skateboard after he took a picture of his bizarre triple-mohawk hairstyle.

Arrested for: Posing as a doctor and filling a women's buttocks with cement, mineral oil and flat-tyre sealant.

Arrested for: Operating a vehicle while intoxicated.

Arrested for: Domestic battery.

Arrested for: Fleeing during a traffic stop. He was easily found later due to, yes, the tattoos on his face.

Arrested for: Smashing statues and furniture (because God told him to do it).

Arrested for: Attempted burglary. Police found him stuck in a woman's chimney - hence the soot.

Arrested for: Burglary, receiving stolen property, forgery and violating the terms of his parole for a previous conviction. His mugshot wasn't exactly repentant.

Arrested for: Being involved in a brawl in a waffle house.

Arrested for: Driving erratically.

Arrested for: Assault. Though he did apologise via the medium of his forehead.

Arrested for: Hooking up with Divine Brown.