White and gold dress or blue and black dress? The internet has adjudicated on a pressing topic which has caused a thousand headaches and rows across the globe.
THAT dress, which has divided opinion like no other topic we've seen, which has topped Twitter trends near constantly since its inception, has been resolved.
As of Friday morning, Huffington Post UK's very own poll, which asks if it is a) black and blue, b) gold and white? or c) no idea, I'm doubting my own sanity now, saw "gold and white" leaping into the lead with 51.02%.
What's more social media agency We Are Social finds that Twitter overwhelmingly thinks the dress is gold and white.
Overnight the divide was pretty much 50/50 but as of 10.40am on Friday morning these were the stats:
#Thedress, 650,483 mentions
(#Thatdress, 1,574 mentions)
#whiteandgold, 326,484 mentions
#blackandblue, 103,264 mentions
#blueandgold, 4,274 mentions
We Are Social spokesman Lauren Underwood told HuffPost UK: "Social media has allowed what would have probably been a short debate between a few friends ten years ago to become a global point of discussion.
SEE ALSO:
"We've seen everyone from celebs to neuroscientists jump in with their point of view. It's almost impossible to predict what random event is going to capture the attention of the social community next, but when something like this does, it's entertaining to watch it unfold."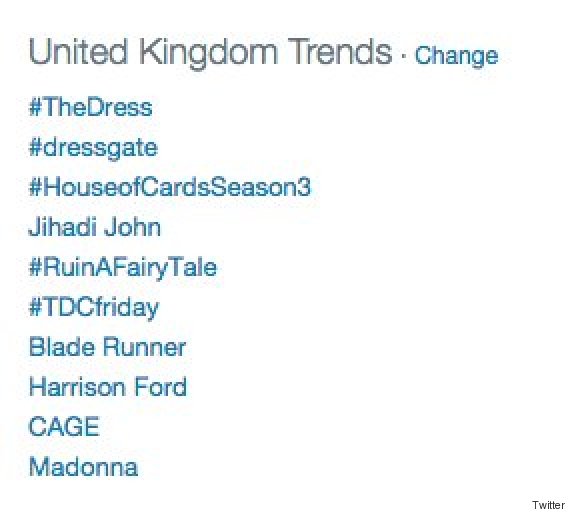 One person who will certainly feel vindicated by these findings is Oscar winner Julianne Moore, who has since thrown her hat into the ring, asking: "What's the matter with u guys, it's white and gold"
@mindykaling @bjnovak what's the matter with u guys, it's white and gold.

— Julianne Moore (@_juliannemoore) February 27, 2015
White and gold eh? Better tell that to Mindy Kaling, Taylor Swift, Emmy Rossum, and the 103,000 others who are not backing down on this one...
IT'S A BLUE AND BLACK DRESS! ARE YOU FUCKING KIDDING ME

— Mindy Kaling (@mindykaling) February 27, 2015
I don't understand this odd dress debate and I feel like it's a trick somehow.
I'm confused and scared.
PS it's OBVIOUSLY BLUE AND BLACK

— Taylor Swift (@taylorswift13) February 27, 2015
I'm very confused. I distinctly see that that dress is blue and black. #buzzfeed #AmIWrong??? #WhatColorsAreThisDress http://t.co/P65VSIqxon

— Emmy Rossum (@emmyrossum) February 27, 2015
Unintentionally Sexual Optical Illusions
Pay attention to the number of legs to understand this one.

You've GOT to be careful about how you hold your beer.

This probably happens every five minutes here.

And just think, this pair will never snag!

He's a swimmer, so.

This could have been prevented if she was wearing pants.

Maybe they should have gone with the black leather interior instead.

Another cute Facebook photo ruined.

Basically just never choose to sit in front for a picture.

So... yeah.

"...This party just got really crazy."

This is why Myspace pictures are so dangerous.

This had to be planned, right?

Regardless of the accident in this picture, why did this woman accept this pose?

Marilyn Monroe could have never seen this coming.

This slideshow is basically a PSA for pants.