A senior British pilot claims he may have solved the mystery of what happened to Malaysia Airlines flight MH370.
Boeing 777 captain Simon Hardy also believes he knows where the doomed aircraft came to rest, following a six month examination of flight data.
Using a unique mathematical technique, Hardy pinpoints the location of the aircraft to 100 nautical miles away from where the Australian Transport Safety Board (ATSB) is currently carrying out it search, the Sunday Times reports.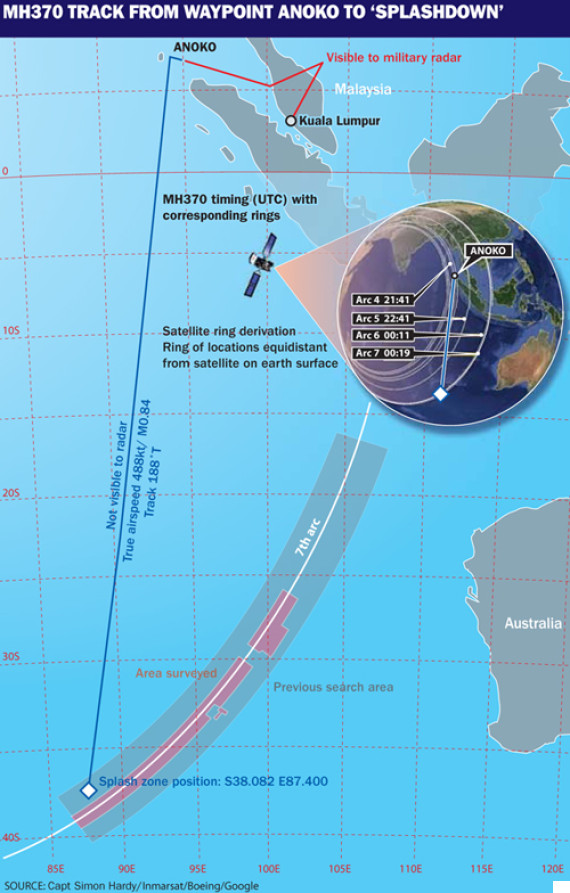 What's more, a spokesman for the ATSB described Hardy's work as "credible" and confirmed the organisation has been in contact with him.

Hardy also told the newspaper he believes pilot Zaharie Ahmad Shah performed a final "emotional" fly-past of Penang island, before landing the plane on water, where it sank intact.
SEE ALSO:
The Beijing-bound Boeing 777 aircraft went missing on 8 March 2014 with 239 people on board.
Hardy points out it was unusual for Shah to have made the last radio call from the plane before it disappeared, particularly when all previous communications had been made by first officer Fariq Abdul Hamid.
After losing contact with air traffic control over the China Sea, Hardy says the transponder was turned off and then the aircraft did something "quite remarkable." A photo of Zaharie Shah (top right) and co-pilot Fariq Abdul Hamid (top left) atop a poster appealing for the missing plane to 'please come back'
"It did a U-turn and reached landfall exactly at the border between Malaysia and Thailand. Then it flew along the border. It went in and out of those two countries' airspace eight times. I've never seen anything like that, but it is a good way to cause confusion between controllers." [Hardy's in-depth mathematical analyses can be read here.]
Hardy believes the aircraft was depressurised and that the passengers and crew lost consciousness – a theory backed by aviation experts in an upcoming National Geographic programme about the missing plane and Ewan Wilson, the author of Good Night Malaysian 370: The Truth Behind the Loss of Flight 370.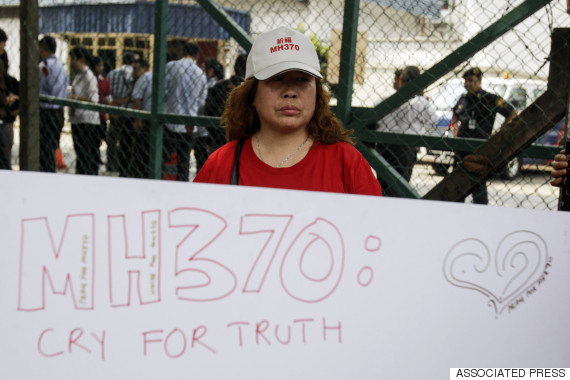 A family member of a passenger on board flight MH370 outside the Malaysia Airlines office in Kuala Lumpur, Malaysia, in February

And he highlights an unusual series of turns above the island of Penang, which he claims is evidence that: "Somebody was taking a last emotional look", a manoeuvre similar to one he himself had carried out to get a better view of Ayers Rock in Australia.
Based on signals from an Inmarsat satellite which periodically sent out a "log-on" request known in the aviation as a "handshake", the last position on the plane was over the Andaman Sea, two nautical miles from navigation waypoint Anoko, not far from the Andaman Islands.
Aviation expert David Learmount of Flightglobal told newspaper: "Hardy has come up with something which is thoroughly plausible, and I think [MH370] may be pretty close to where he says it is."
And he told Huffington Post UK: "Captain Hardy had tried to communicate his calculations to the ATSB before talking to us, but they were so bombarded with theories, most of them crackpot, that they didn't take any notice of him until we published his calculations online back in mid-December 2014, and in the magazine (Flight International) in mid-January."
Malaysian Airlines Conspiracy Theories
Rumours abounded after it emerged that the tickets for two passengers who used stolen passports to travel on a missing Malaysia Airlines flight were booked by an Iranian man known only as "Mr. Ali", according to the FT. But one of those travelling has been identified as a 19-year-old Iranian, almost definitely headed to Germany to seek asylum, with no links whatsoever to terror networks. Besides, it would be baffling as to why Iran would want to hijack a plane almost entirely compromised of Chinese passengers. China is a key ally of Iran.

It's a theory swirling only in the realm of the Twittersphere and Reddit, but HuffPost UK has had a number of emails asking us to investigate the theory, pointing out the jet did have enough fuel on board to reach the hermit nation (allegedly) and that the North Koreans do have form when it comes to plane hijacking. Again, it seems like an odd scheme when it would alienate Pyongyang's only international ally, China, and mainly hinges on the "but those North Koreans are crazy" school of thought.

This one is kinda understandable, because the 'Chinese Martyrs' Brigade' claimed they were responsible for the attack in an email to Chinese media. The message read: "You kill one of our clan, we will kill 100 of you as pay back." This is almost certainly a hoax to stir up trouble, in the aftermath of the Kunming train station massacre where 29 people were killed. Chinese officials blamed that on separatists from north-west China's Uighur Muslim minority.

This was touted on Chinese social media, Weibo, with pictures of the air passenger list showing one name scrubbed out, which netizens said was a "Uighur" name. But it's a hoax, the full air passenger list has been posted on Reddit, and it hasn't got a name scrubbed out. Easy one, that.

This one's made many mainstream newspaper outlets, and has a good basis in truth, relatives swear they have called the phones and heard them ring. Malaysian officials are investigating this, but at a press conference in Beijing, spokesman Ignatius Ong said one of the numbers that had been passed on to the airline's command office in Kuala Lumpur did not receive an answer. "I myself have called the number five times while the airline's command centre also called the number. We got no answering tone," said Ong.

This is one touted on Beforeitsnews.com, an "alternative" site big on stuff like UFOs, which reports: "It is conceivable that the Malaysia Airlines Flight MH370 plane is "cloaked," hiding with hi-tech electronic warfare weaponry that exists and is used. In fact, this type of technology is precisely the expertise of [Texas-based company] Freescale, that has 20 employees on board the missing flight". Again (there's a theme here) it doesn't say why.

Alright, not many people other than complete wack-jobs are posing this theory, but it's always worth an honourable mention. Nothing practical like, say, a motive, is given by those posing this on internet forums, apart from "evil Zionists do this kind of thing". Oh, and that the Israelis once cloned passports, so that's proof enough for The Rebel, who wrote: "The finding of the use on the Malaysian Airlines flight of stolen passports is essentially confirmatory of a Zionist plot." And that's, err, all they've got.
Writing on Flightglobal, Learmount added: "…No floating wreckage from the aircraft has been found, and one way of ensuring nothing floated to provide clues to its resting place would be to ditch the 777 carefully, resulting in the minimum possible structural damage so it would sink to the bottom of the ocean without scattering floating wreckage."
Hardy's theory comes as Australia's transport minister announced the country will alongside Indonesia and Malaysia lead a trial of an enhanced method of aircraft tracking over remote oceans.
Airservices Australia, a government-owned agency that manages the country's airspace, will work with its Malaysian and Indonesian counterparts to test the new method, which would enable planes to be tracked every 15 minutes, rather than the previous rate of 30 to 40 minutes, Australian Transport Minister Warren Truss said. The tracking would increase to 5 minutes or less if there is a deviation in the plane's movements.
The trial is expected to use satellite-based positioning technology already on board 90 percent of long-haul aircraft that transmits the plane's current position and its next two planned positions, said Airservices Australia chairman Angus Houston, who helped lead the search for Flight 370.
The trial will boost the frequency with which planes automatically report their position, allowing air traffic controllers to better track them, Houston said.
"This is not a silver bullet," he told reporters in the nation's capital, Canberra. "But it is an important step in delivering immediate improvements to the way we currently track aircraft while more comprehensive solutions are developed."
MH370: What we know for sure
Malaysian authorities released transcripts of the crew's final exchange with air traffic control, saying it showed nothing irregular. The last words were: "Good night, Malaysian 370."

Investigators say they believe the plane turned south after its final radar contact and flew over the southern Indian Ocean, where it is believed to have crashed.

Despite an exhaustive air and sea search, no trace of the plane has yet been found, due to the size of the area and the depth of the ocean being searched. The search thought it had detected 'pings' from the plane's black box but these may have been from another source and the area they came from was later ruled out as the plane's final resting place.

Pilot Zaharie Ahmad Shah (pictured top right next to co-pilot Fariq Abdul Hamid) had no social plans or engagements after March 8, the day the plane vanished. Shah also programmed flights far into the southern Indian Ocean - the plane's most likely resting place - on the flight simulator at his home. The rest of the crew all passed security checks, it was reported.

Within weeks of MH370 disappearing, authorities warned the search could take "years". The initial sea and air search has been called off but oceanographers are mapping the ocean floor in preparation for a one-year search that will begin late this month to find the wreckage.