NEW YORK -- An American far-right activist, who was banned from Britain 2013 after a personal intervention from Home Secretary Theresa May, has accused comedian Jon Stewart of being "the most disgusting Jew on the planet."
Writing for the conservative mouthpiece WorldNetDaily, Pamela Geller, who along with author Robert Spencer was barred from entering the UK two years ago to prevent the pair addressing and English Defence League rally in Woolwich, blamed "The Daily Show" host for the "absence of the good" in American culture.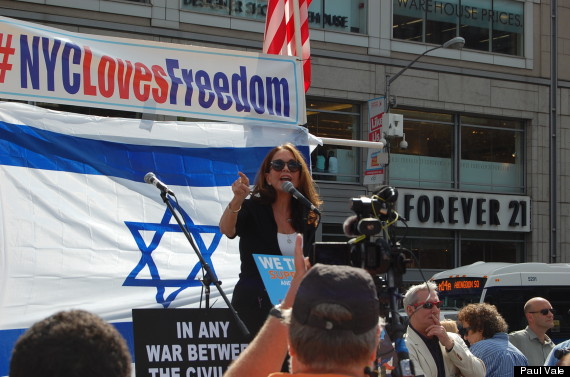 Pamela Geller speaking at an AFDI rally in New York, August 2014
Of Stewart she wrote: "This vicious traitor, smug and self-righteous, has long been working for the other side under the guise of comedy," adding: "Vile. Jon Stewart defines self-loathing Jew. But that's not enough. He means to take us down with him."
Yet it is not just Stewart and Comedy Central that are responsible for the "cultural rout". Hollywood takes a hit too:
American traitor Edward Snowden got an Oscar; American hero Chris Kyle got the middle finger. Even the traitorous far-left journalist Glenn Greenwald got an Oscars shout-out. Of course Hollywood would reward vicious traitors. There was no way the Hollywood establishment was going to give an Oscar to Clint Eastwood after he so delightfully skewered Obama's empty chair. And their disdain for Americanism and the military is infused in everything they churn out.

Sharing their disdain for America is Jon Stewart, to whom they should have given the "Most Disgusting Jew on the Planet Award." No contest. After Israeli Prime Minister Benjamin Netanyahu's groundbreaking speech to Congress last week, Stewart scoffed at the many standing ovations Netanyahu received as the "longest bl-wjob a Jewish man has ever received.
Netanyahu delivered a speech last week that amounted to the hijacking US foreign policy by a foreign politician, a move designed to undercut Obama's effort to secure a nuclear deal with Iran whilst attempting to bolster Bibi's chances in the upcoming Israeli general election.
In response, "The Daily Show" ran the following segment:
In August last year, the HuffPostUK attended a rally in New York organised by the American Freedom Defence Initiative (AFDI), which has been listed by the Southern Poverty Law Centre as an anti-Muslim hate group. The rally was led by Geller and Spencer. Here's that report.
(H/T RightWingWatch)
Stewart invited Bernie Goldberg to come on "The Daily Show" show in 2005 to discuss his book, "100 People Who Are Screwing Up America." Needless to say, Stewart and Goldberg disagreed that people like Barbra Streisand and gangsta rappers were actively hurting the country more than, say, government officials waging wars and bankrupting the country.

Cut to five years later. In 2010, Stewart invited Fox News to "go f*ck yourself" after presenting them with bald-faced hypocrisy over their presentation of liberals, Bernie Goldberg fired back at Stewart for not being as "edgy" as he pretends to be. Stewart, in turn, presented one of the best "Daily Show" segments of all time in which he hit back at Goldberg for working for a "terrible, cynical, disingenuous news organization," and once again called for Fox to "go f*ck yourself" -- this time with a gospel choir.

In 2009, Stewart didn't hold back when CNBC "Mad Money" analyst Jim Cramer appeared on his show. Cramer apologized on behalf of his network for misleading viewers about stocks to invest in, such as Bear Stearns, which Stewart (and many others) believed was an irresponsible contributor to the economic downturn.

Although their relationship is more civil than many of Stewart's right-wing adversaries, Stewart and O'Reilly always have entertaining and enlightening discussions when they appear on each other's programs.

When appearing on Fox News in 2011, Stewart didn't hold back when Chris Wallace accused him of being more ideologically driven than comedically inspired. "You're insane," Stewart told Wallace after he conflated a comedy piece about Sarah Palin with political propaganda.

"WTF" host Marc Maron and Jon Stewart came up in the New York stand-up comedy scene together, and according to Maron, he was a "huge asshole" to Stewart. Years later, Maron asked Stewart to appear on his successful podcast, and Stewart indicated that he would rather hash out their differences privately. Of course, Maron has not spoken about their relationship since 2011, so perhaps 2013 could be the year they make amends.

Stewart entered into a minor feud recently when he made some fun at the expense of New York Times columnist Paul Krugman after Krugman called for the minting for a trillion dollar coin to provide some economic relief. Krugman then said Stewart was "lazy" and unprofessional for the jokes, and Stewart hit back: "If anyone is ruining their brand with the trillion dollar coin idea, I'm pretty sure it's not the non-economist." CORRECTION: A previous version of this caption stated incorrectly that Krugman called for the minting of a million dollar coin. It was a trillion dollar coin.

Every now and again, Bill Donohue remembers that Jon Stewart exists and finds some reason to blast him publicly. Most recently, Donohue was offended on behalf of all Catholics when Stewart made a crack where he said that, in the spirit of the War on Christmas, women should protect their lady parts with "vagina mangers." Donohue then called for sponsors to pull advertising until he apologized. This feud was one-sided, though: Stewart didn't grant Donohue the dignity of a response.

In some ways, Jon Stewart had his national coming out with this 2004 appearance on "Crossfire" in which he told Paul Begala and Tucker Carlson that their CNN show was "hurting America." Begala and Carlson were taken aback by Stewart's earnestness, but it was only a sign of things to come for the "Daily Show" host. Incidentally, when CNN president Jonathan Klein canceled "Crossfire" in 2005, he said that he agreed "wholeheartedly" with Stewart's criticism.

Stewart had been making fun of former CNN host Rick Sanchez's blustery style for years, most frequently for a clip in which the barrel-shaped Sanchez folded like a wet napkin after offering to be tased. Apparently, the ribbing set off Sanchez, who told a radio host that Stewart was a "bigot," which led to his dismissal from CNN. In this case, Stewart seemed to take pity on Sanchez, saying he likely had a "good heart."

Although most of Stewart's feuds take place in the public eye, he engaged in a behind-the-scenes quarrel with "Family Guy" creator Seth MacFarlane in 2008. In an episode of "Family Guy," MacFarlane included a joke directed at Stewart for airing his show during the Writers Strike. Stewart promptly phoned up MacFarlane and asked him "who the hell made him the moral arbiter of Hollywood," according to MacFarlane. No word on the current status between the two, but we doubt Stewart will be giving MacFarlane any Oscar hosting tips anytime soon.