WARNING: Post contains explicit language
Labour supporting JK Rowling has been on the receiving end of horrific online abuse after a the Tories' nationawide majority and the SNP's landslide victory in Scotland.
Instead of taking the chance to be happy and celebrate, a few people appear to have taken great relish in hurling gloating obscenities at the Harry Potter author.
(Some of these tweets have since been deleted)
@jk_rowling @Matthew_Ireson Fuck off you Labour CUNT. All you lefties are finished in this country, especially you JK bitchface.

— Steve Josiah (@sjosiah0) May 8, 2015
actual you btw @jk_rowling turncoat shitebag pic.twitter.com/fVOxcRoIo0

— GOOKO (@LazloMorphine) May 8, 2015
In the last hour I've been invited to relocate to France, Ireland and Brazil!

— J.K. Rowling (@jk_rowling) May 8, 2015
Let's never forget that J K Rowling is in fact a fuckin shit writer and "adults who enjoy her books" is best available proof u r a cunt.

— Davie Nish (@wee_Davie_Nish) May 8, 2015
Even apparent Ukip supporters got in the act.
Go fuck yourself you disgusting slimy Labour cunt. You Blairite scum ruined this country. #VoteUKIP

— Steve Josiah (@sjosiah0) May 7, 2015
And this was just a bit odd.
Dear @jk_rowling

Everything still OK in this nation with 95% SNP MPs?

Now I hope you wont be funding any of these extremist minorities!

— YES2 (@YESthatcherDead) May 8, 2015
Fortunately Rowling is pretty adept with words...
.@ChrisDarroch2 Chris, if you're this angry in victory, you must really need a hug.

— J.K. Rowling (@jk_rowling) May 8, 2015
@ChrisDarroch2 and you can't spell "Slytherin".

— J.K. Rowling (@jk_rowling) May 8, 2015
There's that warm fuzzy Scottish civic nationalism we hear so much about. https://t.co/EnVBLU16h8

— J.K. Rowling (@jk_rowling) May 8, 2015
SEE ALSO:
Not to mention this gem.
.@sjosiah0 The Internet doesn't just offer opportunities for misogynistic abuse, you know. Penis enlargers can also be bought discreetly.

— J.K. Rowling (@jk_rowling) May 8, 2015
Holy shit. @jk_rowling's hilarious tweet left us all speechless. That. Was. Brilliant.

— Ardit Haliti (@ardit_haliti) May 8, 2015
And their defence was pretty poor.
@HuffPostUK Well she needs to stop putting her point across when she doesn't have a clue how much upset she causes

— elaine (@ElaineOordugkim) May 8, 2015
The haters were far outnumbered buy supporters...
If you could all see the amount of love and support flooding my timeline right now, you would be - as I am - overwhelmed. #FaithRestored

— J.K. Rowling (@jk_rowling) May 8, 2015
I thought @Louis_Tomlinson was the sass master until I read some of @jk_rowling's tweets from today. #queen 🙌🏼

— Jordan Hensley (@jordanahensley) May 8, 2015
https://t.co/j1Hkk56MLr Appalled at abuse @jk_rowling is getting --> she's a million times better than any of those haters

— Jamie Wallis (@jamie_wallis) May 8, 2015
Why are people abusing @jk_rowling? She's a flippin' amazing human specimen with a heart of gold.

50 points from Slytherin.

— Caleigh (@GlutenFreek) May 8, 2015
.@jk_rowling is amazing! The best reply to a troll attacking her for having an opinion. What's wrong with you, UK? https://t.co/nzJFLx2JAr

— Elena Ostroumova (@Producer_Elena) May 8, 2015
Why isn't @jk_rowling prime minister yet?

— chloé (@KNlGHTBUS) May 8, 2015
People need to back of from @jk_rowling right now. She's the very best of humans.

— Chloé Davies (@theultimateDave) May 8, 2015
guess I better start following @jk_rowling https://t.co/baY4BMXlC4

— feministontinder (@feminist_tinder) May 8, 2015
when @jk_rowling continuously roasts people who talk shit to her>>> 😂😂

— Woody (@WTP91) May 8, 2015
No one deserves the vitriol being slung at @jk_rowling. Being a woman (famous or not) with an opinion doesn't make it open season.

— Aimée Carter (@aimee_carter) May 8, 2015
Bravo...
SEE ALSO

Calls For Switch To Proportional Representation After Shock Tory Election Win

Where Did It All Go Wrong For The Election Pollsters?

Tory MP Shows How NOT To Do A Victory Speech...

David Miliband's Cryptic Tweet Hints At Return, Brings Labour Fury
08/05/2015 15:41 BST
That's The End Of Our Live Blog Coverage
Now the final results have arrived, we'll be ending our live coverage.
You visit our General Election 2015 page for more news and features.
08/05/2015 15:33 BST
Final Result In
The final result is in from St Ives - a Conservative victory.
This brings the final tally up to:
Conservatives: 331
Labour: 232
Lib Dem: 8
Ukip: 1
SNP: 56
Green: 1
Other: 22
08/05/2015 13:23 BST
Cameron Wins: 'I Truly Believe We Are On The Brink Of Something Very Special'
Speaking outside 10 Downing Street, Prime Minister David Cameron said he would be proud to lead a majority Conservative government after his party won the general election.
Mr Cameron said: "I truly believe we are on the brink of something very special in this country."
Mr Cameron said he would implement "as fast as I can" the devolution agreed for Scotland, Wales and Northern Ireland.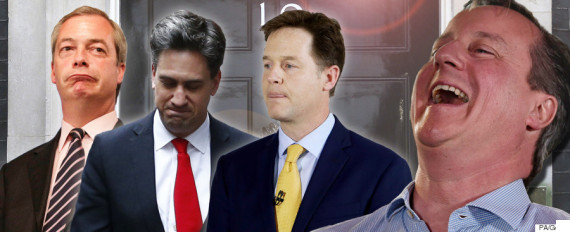 08/05/2015 13:07 BST
First Ed - Now Harriet
Harriet Harman to step down as deputy leader of the Labour party once a new leader is elected.

— Sun Politics (@SunPolitics) May 8, 2015
08/05/2015 13:00 BST
Here Is The Full Text Of Ed Miliband's Resignation Speech:
"Thank you for your kindness, friends.
"Friends, this is not the speech I wanted to give today because I believed that Britain needed a Labour government.
"I still do, but the public voted otherwise last night.
"Earlier today I rang David Cameron to congratulate him.
"I take absolute and total responsibility for the result and our defeat at this election. I am so sorry for all of those colleagues who lost their seats - Ed Balls, Jim Murphy, Margaret Curran, Douglas Alexander and all the MPs and indeed candidates who were defeated.
"They're friends, colleagues and standard bearers for our party, they always have been and they always will be."
He continued: "I also want to congratulate all of our candidates who were elected yesterday, and who will help take our party forward as well.
"I want to thank those people who ran our campaign - it was the most united, cohesive and enjoyable campaign I have ever been involved in.
"I want to thank Douglas Alexander, Lucy Powell, Spencer Livermore, and most of all, all of you, the incredible team at the Labour party.
"And I also today want to thank the incredible team of Labour Party members, activists and all those people who pounded the streets over the past few months.
"Friends, Britain needs a strong Labour Party. Britain needs a Labour Party that can rebuild after this defeat so we can have a government that stands up for working people again.
"And now it's time for someone else to take forward the leadership of this party.
"So I am tendering my resignation, taking effect after this afternoon's commemoration of VE Day at the Cenotaph.
"I want to do so straight away because the party needs to have an open and honest debate about the right way forward without constraint.
"Let me say that Harriet Harman is the best deputy leader anyone could hope for.
"I worked for her more than 20 years ago, I'm proud to have had her as my deputy for my term of leadership.
"She will take over until a new leader is elected.
"For me, I'm looking forward to reacquainting myself with Justine, Daniel and Sam. But before I do I want to say a few things.
"First of all, thank you to the British people. Thank you to the people who have met me on train stations, in colleges, in workplaces, in schools. Thank you for sharing your stories with me, I have learned so much from you. It has been an enormous privilege.
"Thank you for the selfies, thank you for the support, and thank you for the most unlikely cult of the 21st century - Milifandom.
"Second, I want to address those who voted Labour yesterday. Today you will feel disappointed, even bleak. But while we may have lost the election, the argument of our campaign will not go away. The issue of our unequal country will not go away.
"This is the challenge of our time, the fight goes on and, whoever is our new leader, I know Labour will keep making the case for a country that works for working people once again.
"Third, I believe in our United Kingdom. Not just because it is our country, but because it is the best way of serving the working people of our country. You know, I believe there is more that unites us than divides us across the whole United Kingdom. And all of us, in the months and years ahead, must rise to the challenge of keeping our country together.
"Finally, I want to say something to my party: thank you to you. Thank you for the privilege. I joined this party aged 17, I never dreamed I would lead it. It has been an incredible force for progress, from workers' rights to the NHS to the minimum wage. No other party in British politics can boast these achievements, and, yes, it will be a force for progress and change once again.
"And to all the Labour Party members, you are the most loyal supporters, amazing people. I thank all of you today. I am truly sorry I did not succeed. I have done my best for nearly five years.
"Now you need to show your responsibility. Your responsibility, not simply to mourn our defeat but to pick yourself up and continue the fight. We have come back before and this party will come back again.
"And if I may, I say to everyone in our party: conduct this leadership election with the same decency, civility and comradeship that we believe is the way that the country should be run. I believe I have brought a culture to this party of an ability to have disagreement without being disagreeable. I urge everyone to keep this in mind in the months ahead.
"Finally I want to say this: The course of progress and social justice is never simple or straightforward. Change happens because people don't give up, they don't take no for an answer, they keep demanding change. This is my faith. Where we see injustice we must tackle it.
"In a couple of hours I will no longer be leading this party. But, you see, for me, that has never been the only way to achieve change. Because I believe it is not simply leaders who achieve change, it is people that make change happen.
"I will never give up on that idea, I will never give up on that cause, I will never give up on fighting for the Britain I believe in. That faith will always be my faith, that fight will always be my fight, that cause will always be my cause. And I will always be there in that cause with all of you. Thank you very much."
08/05/2015 12:58 BST
David Cameron On His Way To See The Queen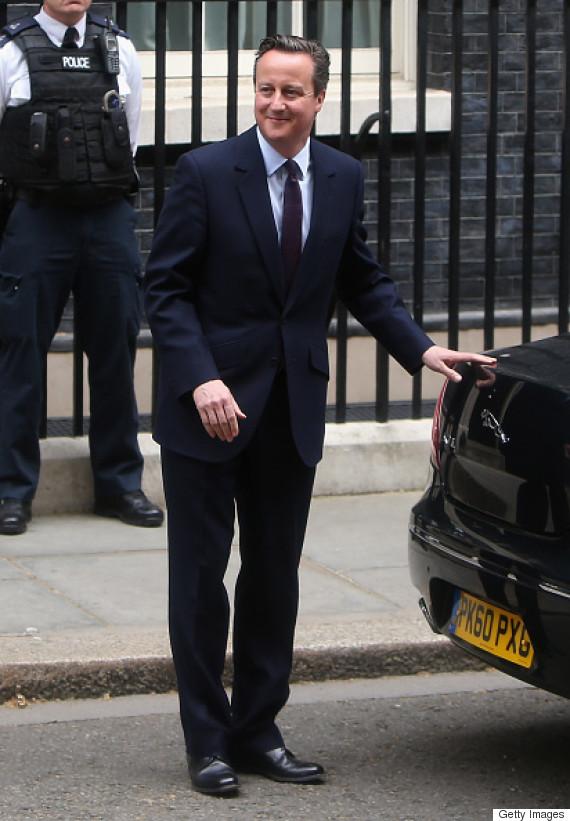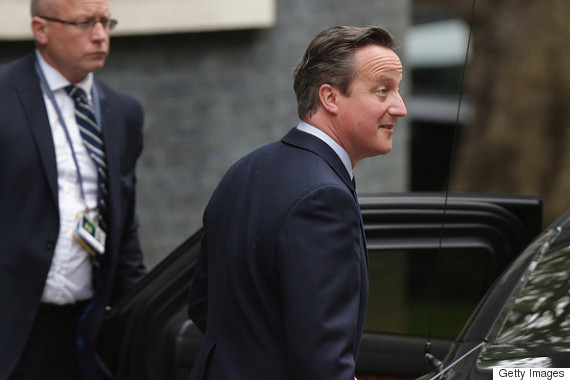 08/05/2015 12:43 BST
Watch Nick Clegg's Emotional Leadership Resignation Speech
08/05/2015 12:37 BST
The Conservatives Officially Have A Majority
The Conservatives have won 326 seats in the General Election, the number needed to form a majority government.
08/05/2015 12:32 BST
Cameron has arrived at Buckingham Palace
David Cameron has arrived at Buckingham Palace for an audience with the Queen to confirm his second term as Prime Minister following his party's General Election victory.
General Election 2015: The Funniest Video Clips
SUBSCRIBE TO & FOLLOW UK DAILY BRIEF