Images of a Syrian father clutching a handful of pens in a bid to sell them to passersby while carrying his daughter, slumped over his shoulder, have sparked a huge fundraising campaign.
Thousands of pounds were raised after pictures were circulated of a Syrian refugee with his sleeping daughter on the streets of Beirut, Lebanon.
The photographs led to a staggering $5,000 (£3,200) being raised in just 30 minutes of the campaign being launched. At the time of writing, the sum had reached $45,000 (£29,200) within 16 hours.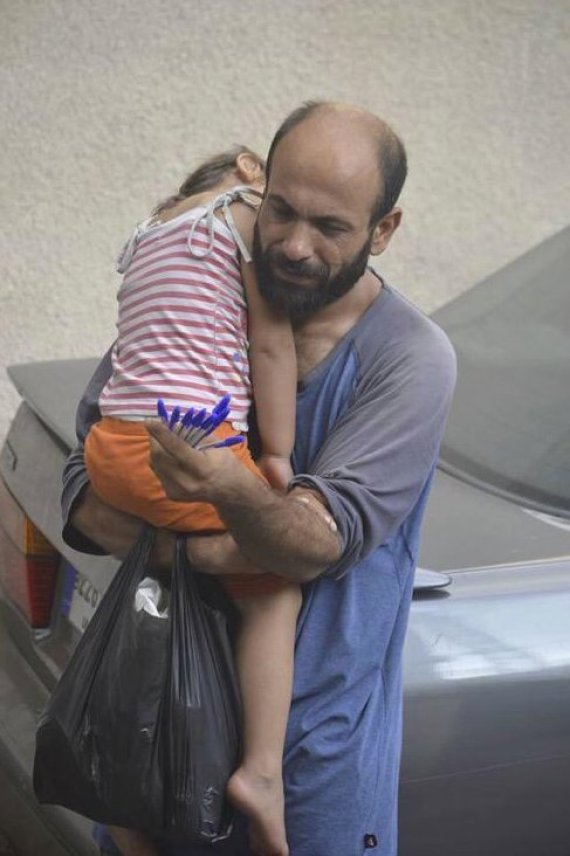 Abdul holding his daughter, Reem, while selling pens
The images show Abdul, a Palestinian Syrian from the Yarmouk refugee camp, holding his four-year-old daughter, Reem.
The picture was posted on Twitter by Gissur Simonarson.
On the Indiegogo fundraising page set up for the refugee and his family, it says that Abdul is a single father-of-two. His other child, Abdelillah, is nine years old.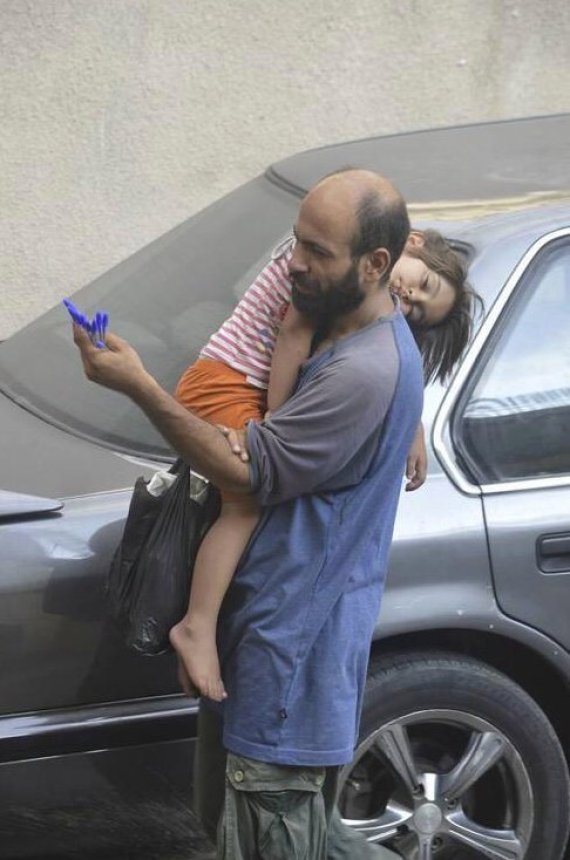 This image sparked a huge fundraising campaign
Simonarson shared photos of a Syrian refugee with his sleeping daughter and was inundated with requests to help the man.
He launched a Twitter account called #BuyPens and within 30 minutes of starting his search he was contacted by the someone who saw the refugee every day around his house.
Simonarson wrote on the fundraising page: "Long story short, we were able to find him and now have a secure way to get this man the money we raise here.
"Thank you to everyone who has supported this. It's nice to see people come together and make a difference in another persons life."
Finally found him =) Been a lot of work, but it was worth it! Now lets help them!

https://t.co/Fcg59KTbbh pic.twitter.com/SjIDmytCeG

— Gissur Simonarson CN (@GissiSim) August 27, 2015
Abdul is a Palestinian Syrian from the notorious Yarmouk camp seen in this photo. He's a single dad with 2 children. pic.twitter.com/egFy2Bk3lX

— Gissur Simonarson CN (@GissiSim) August 27, 2015
After 30 minutes of fundraising, Simonarson provided an update: "We have reached my goal of $5,000 in the first 30 min. This was never meant as a cap, just something to start with.
"Let's make sure that Abdul and Reem can really start a great new life. All extra donations will of course go directly to them as well."
Speaking to the Huffington Post UK, Simonarson said that he has never been involved in something like this before, but that the photo of Abdul and Reem really hit a nerve, spurring him on to help the family.
He said: "The photo is very powerful. His eyes, the way he's carrying his sleeping daughter, and for some reason the way he is holding the pens out. It just really touched me.
"Then when I saw the amazing outpouring of people wanting to help, I decided it was time to act and help find this man."
Speaking of the reaction from people, Simonarson said: "I am humbled and overwhelmed by the outpouring of support. I'm just really happy to finally have a positive refugee story on the news."
The organiser of the fundraising campaign added that Abdul is "over the moon thankful" and is "so amazed by what is going on".
Simonarson is in contact with Unicef special protection to help ensure Abdul is not taken advantage of.
SEE ALSO:
Also on the Huffington Post UK:
Syrian refugees who gave birth in camps
Her fifth child, son Belal, was in good health until the day a sandstorm swept through their camp. "Our tent fell on us. I picked up my newly born child in my arms and ran with my other children randomly till we all hid ourselves in a neighbour'€s tent for two hours till the storm calmed down. During these two hours we didn'€™t stop crying, it was so scary. Up to now, all my children are suffering from infection from the dust."

She had her daughter Zahra, her third child, just before the sandstorm as well. "We are left alone. No one comes to check on us. We live by the roadside."

Moussa recently gave birth to her son Abdulelah, her fourth child. "I delivered several days after my due day and I was so afraid. €œWe had to borrow money for me to deliver and up to now my husband hasn'€™t paid it back. He can'€™t afford it."

Hamada just gave birth to her first son, Ra'fat. "Winter is so cold, summer is hot and dry. My husband hardly works and some of the decisions we had to make have been deciding what is more important: To buy bread to feed ourselves or medicine in case my child is in need? "A day of treatment for my baby who suffered from diarrhea is like a month of work for my husband."

Ali gave birth to her first daughter, Khadija on August 14. "We left Syria two years ago with nothing and today we have nothing, I wish someone could turn to us, help us, take us out of our misery."

Eidah knew life would get harder with the birth of her daughter Salam, but she still feels disappointed in this "unfair world"."We used to be two and now we are three.€œWhen it was only me and my husband, it didn€'t matter if we went to sleep hungry, but now we have a child and I don'€™t know how we are going to feed her."

Alkhalid worried about the future when she was pregnant with her second daughter, Mariam. Now that Mariam is four and a half months old, the challenges seem even greater. "We are the ones who live outside of the registered camps with miserable conditions. €œMy husband has no work. All we want is people to help us and pay us some attention."

Alhumaidi does not know what to do after the birth of her seventh child, Islam."€I'€™m speechless, I have no words left. We are done complaining and begging for help. We are abandoned here. I just want to go back to my country. Even if we have to start from zero there as we lost our home, at least we will be able to live with dignity."€

After delivering Mezwid, her first son, despite fears of medical complications, Alsayil says she now feels €"complete"€ for the first time in months. "Holding him feels like the best gift I could be granted," she says.