Saudi Arabia has denied offering to build 200 mosques in Germany after reports circulated earlier this month.
On Thursday, a statement was issued in which the country said the "issue" was not being considered and that no discussions had taken place with the German government.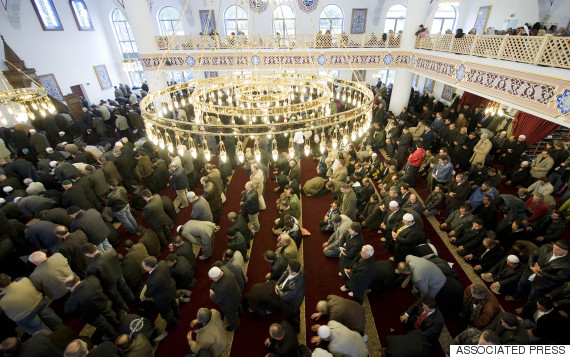 Muslims praying in a Mosque in Germany. Saudi Arabia denies offering to build 200 mosques
Ambassador Osama Ahmed Nugali, head of the media department at the Ministry of Foreign Affairs, said: "The Kingdom of Saudi Arabia as the Custodian of Two Holy Mosques and the birthplace of Islam is committed to supporting Muslim communities around the world.
"Building mosques in other countries is arranged in close coordination with the governments of those countries in order to facilitate the ability of Muslim citizens and residents to practice their faith."
Richard Dawkins Slams Saudi Arabia's 'Sick' Offer To Build 200 Mosques In Germany
In response to reports that Saudi Arabia is planning to build 200 mosques in Germany, Ambassador Nugali said: "This issue is not under consideration and no discussions have taken place with the German government about it.
"Therefore, the reports are without basis or truth."
German newspaper, The Frankfurter Allgemeine Zeitung, reported the plans, quoting Lebanese newspaper al Diyar.
Reports emerged that the wealthy Arab state offered to build the mosques in Germany, which is expecting to take in 800,000 refugees this year.
Yet Saudi Arabia, along with five other Gulf States, has faced criticism for failing to offer any resettlement places to the thousands of refugees fleeing neighbouring, war-torn Syria.
The reports were widely covered by international media and condemned by Richard Dawkins, who brandished it "either a sick joke or sick insult to German generosity".
The 74-year-old atheist and author said that the only thing that could be "more useless to refugees in Germany than 200 mosques" was 201 mosques.
Is this some kind of sick joke? It's certainly sick, but I'm horribly afraid it might not be a joke. https://t.co/6Z7sDLZerz

— Richard Dawkins (@RichardDawkins) September 10, 2015
Could anything be more useless to the refugees in Germany than 200 mosques? (Answer, 201 mosques). http://t.co/j0h4XHQZsF .

— Richard Dawkins (@RichardDawkins) September 10, 2015
The Gulf States have received mounting criticism for their "deafening" silence over the refugee crisis.
Last month, Germany's interior minister announced that the country was expecting the arrival of as many as 800,000 refugees this year - four times as many as 2014.
SEE ALSO:
Also on the Huffington Post UK:
Numbers That Show There's Much More To Do To Help Syrian Refugees
More than 10 million Syrians have been forced out of their homes due to the conflict, becoming either "internally displaced" or fleeing altogether, according to Amnesty International.

The UNHCR's latest figures show the crisis is getting worse. More than 7.6m Syrians have been displaced within the country by the conflict, fleeing to safer areas.

By December 2014, 3.8 million Syrians had fled the country altogether. They sought refuge in Turkey, Lebanon, Jordan, Iraq and Egypt. A sizeable proportion then make the perilous journey to Europe. These numbers may well have increased since the last count, given the advance of Isis and the continued battle between rebel groups and pro-government forces.

The Gulf Cooperation Council's oil-rich states of Bahrain, Kuwait, Oman, Qatar, Saudi Arabia, and the United Arab Emirates accept very few refugees and asylum seekers from Syria. Since 2011, the UNHCR has supported 63 Syrians with asylum applications in the countries – but just 33 were accepted, despite the UN's support. Amnesty International has called Gulf states' contribution "shocking", the states themselves say they are providing thousands of visitor visas for Syrians, but also protecting against the threat of Islamist extremist attacks.

Full Fact reports that Britain has granted asylum to just under 5,000 Syrians in the initial decision made on their applications since 2011. In addition, 216 Syrian refugees have been resettled in the UK. Resettlement includes transferring refugees from Syria to the UK – whilst a person has to be in a country to claim asylum there.

Aside from Germany, the other 27 EU nations have pledged just 6,305 places to Syrians to resettle, last year. That's 0.17% of the number of refugees that have fled Syria. While EU nations are likely to significantly increase the number of resettlement places this year – Germany still takes a lion's share of those seeking refuge.

Amnesty International says that – by June 2015 – only 2.2% of Syrian refugees have been offered places to resettle by the international community. That's less than 90,000. And money is short too. "The UN's humanitarian appeal for Syrian refugees was only 23% funded as of the 3 June," it wrote.

In 1951, 145 nations ratified the Refugee Convention governing the treatment of those fleeing persecution. Yet just a fraction of these have offered to help so far.