Daniel Craig was left seriously unimpressed during an interview on 'This Morning' on Thursday when he was asked to pout for the camera.
READ MORE:
The James Bond star was being interviewed about the latest 007 movie 'Spectre' by the daytime show's entertainment reporter Sarah Powell, when she asked the actor to recreate his moody pout.
Despite giving a flat 'no' to the request the bemused star then shut the persistent interviewer down by telling her to 'move on'.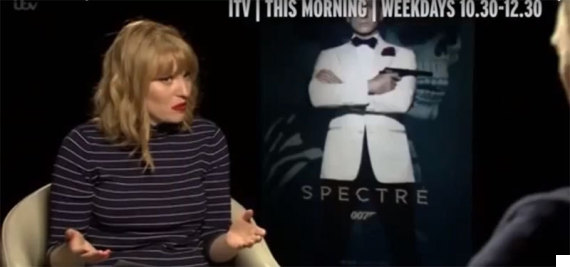 The chat also touched on Bond's dressing gown, how many polo necks he wore, the Milk Tray Man and errrrm what Bond villain he would play.
Even poor old Phillip Schofield couldn't quite believe how badly the interview had gone.
"We rushed that interview over and edited that quickly, I'm sure you would have taken out the pout stuff if we hadn't," he told viewers.
And the viewers agreed, taking to Twitter once they'd unraveled their toes…
@Schofe Sarah Powell showing how good Alison Hammond is! That Daniel Craig interview my toes out thru me steel toe cap boots! #thismorning
The lady interviewing Daniel Craig on #ThisMorning was so bloody cringe! 😳🙈
I find this interviewer embarrassing. Poor Daniel Craig #thismorning
@ThisSarahPowell This day will pass but you'll NEVER forget that interview you had with Daniel Craig for #ThisMorning Sadly neither will we!
Girl from#thismorning is doing the worst interview ever with Daniel Craig...she's asking him to pout. So embarrassing
Oh my god what an excruciatingly awful interview with Daniel Craig #thismorning #awkward
#thismorning #Bond Daniel Craig interview was uncomfortable. Interviewer was childish & undermining
How bad was Sarah Powell's interview of Daniel Craig on #ThisMorning? Felt sorry for him. Asking him to pull faces etc Cringe ..
Could tell Daniel Craig didn't like her very much, rightly so because she was awful. #ThisMorning
Maybe this is what Sarah was on about...
Daniel Craig's Poster Face
SUBSCRIBE TO & FOLLOW UK ENTERTAINMENT