During an interview on Channel 4 News on Wednesday, the journalist challenged the mayoral hopeful for his choice of words used to describe Labour's Sadiq Khan.
Goldsmith defended the decision to refer to Khan as "radical" and "divisive" in a pamphlet, saying it was the Labour party's trajectory over recent months - and not Khan's religion - that he was referring to.
SEE ALSO:
But the veteran presenter told Goldsmith: "You're not an unintelligent man. You know that the word 'radical' and 'Muslim' can go together and speak 'ISIS'."
The discussion took place during a segment on knife crime in London - an area that will need to be tackled by the new London Mayor when incumbent Boris Johnson steps down in May.
Snow told Goldsmith: "This is also about race, it is also about communications and things haven't started terribly well with that pamphlet that went out, calling your opponent radical and divisive."
Zac Goldsmith said: "What's happened to the Labour party in the last few months is one of the most radical things that has happened in politics in my lifetime - probably even in your lifetime."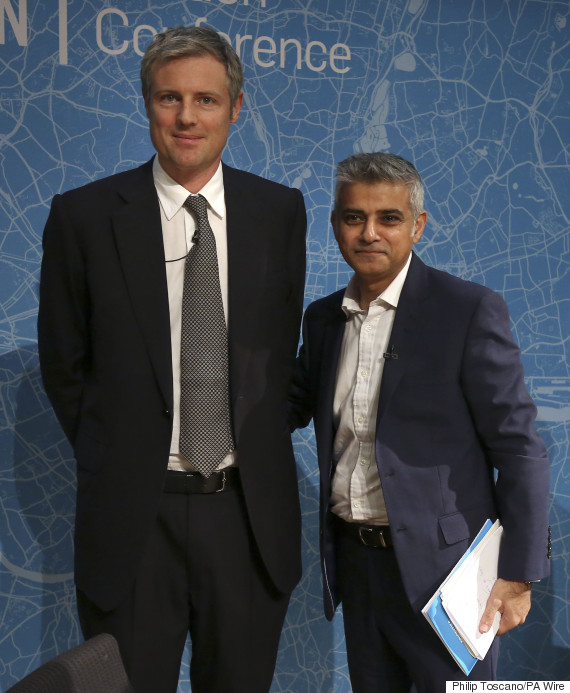 London Mayoral hopefuls, Zac Goldsmith (left) and Sadiq Khan
Addressing the use of Goldsmith's "radical" and "divisive" terminology, Snow said: "It's the race card."
Goldsmith replied: "I do believe that Sadiq Khan has played the race card and I think it's wrong."
But Snow retorted: "But it is you who has played the race card."
The Tory MP denied this, saying: "Not at all. I have used the term radical to describe what has happened to the Labour party political machine.
"Everyone listening to this programme would have to agree that it is radical, whether they like it, welcome it or not and to misinterpret that and apply it to his religion I think is deeply divisive, totally depressing and completely wrong."
Goldsmith said: "I don't for one second believe that it was wrong to use the term radical," adding: "I completely reject the idea that using the term 'radical' to describe Sadiq Khan is wrong, his campaign is run by the unions for Christ's sake."
Many were quick to criticise Goldsmith for his comments:
.@Channel4News @ZacGoldsmith slimy, evasive on his 'radical' dog-whistle leaflet #MayorforLondon . It's not going to be pretty
Zac goldsmith called out there for scaremongering saying Corbyn and Khan are radical and divisive. What a pathetic way to run a campaign
@ZacGoldsmith just got told by @jonsnowC4 'it's you playing the race card'. Not @SadiqKhan! Jon Snow is on fire!!
While others supported his use of the word "radical":
@jonsnowC4 being anything but impartial, 'You played the race card' unfounded and ridiculous. @ZacGoldsmith good response.
Why is the media after @ZacGoldsmith for using the word radical? It's sad to see that automatically link the word radical with a religion.
@jonsnowC4 @ZacGoldsmith Critique of 'radical' with Goldsmith was bizarrely PC. What next? Ban any word with a tenuous double-entendre? Tosh
Some thought the discussion had wandered off topic:
Come on @jonsnowC4 can we focus on #gangs please, not @ZacGoldsmith and the 'race card' @Channel4News
@ZacGoldsmith Shame your C4 news appearance about how to tackle knife crime was hijacked for a pointless political attack on semantics.
@Channel4News how did the discussion on knife crime change so rapidly and insensitively ? @ZacGoldsmith pushed into a corner / off subject
And others did not appreciate Goldsmith's quip about unions:
How is union support radical, @ZacGoldsmith ? They've been with us for 200 years, you might want to remember that #c4news @SadiqKhan
@ZacGoldsmith your #c4news interview with @jonsnowC4. 1st you call @SadiqKhan radical, now trade unionists.Anyone else you want to alienate?
So @SadiqKhan's campaign is radical because it's run by the unions? #ZachGoldsmithlogic @Channel4News
SEE ALSO:
SUBSCRIBE TO & FOLLOW UK DAILY BRIEF