A journalist from Armed American Radio said that the deaths of 13,338 people in the US last year from gun violence was "just a part of life" during a heated interview on Channel 4 News on Tuesday.
Neil McCabe was questioned by Jon Snow Tuesday evening - hours after President Barack Obama announced tighter gun control measures following a series of mass shootings in the US.
A Channel 4 News report on gun control in the US revealed that 125 people have already died this year as a result of gun violence. There were 13,338 deaths in total last year.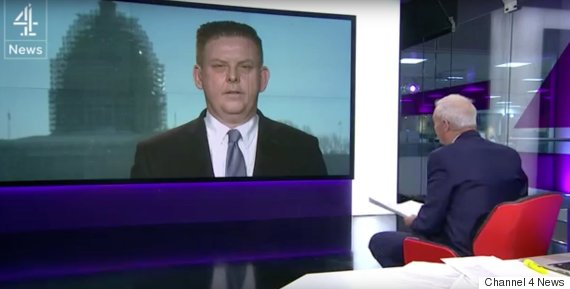 Neil McCabe was questioned by Jon Snow on Channel 4 News on Tuesday
Following the report, Snow asked McCabe whether he was "proud or ashamed" of the number of people who had died from gun violence in the US.
McCabe said: "I don't know if I am ashamed and I don't know if I am proud. It happens and in a free country these things happen.
"There is always going to be risk. There is always going to be situations."
READ: Why 'Gun Control' Isn't Going To Save A Single American Life
During the segment, Snow increased the figure to 137 people and then to 141.
When confronted with the escalating statistics, McCabe said: "It's just part of life."
McCabe added: "More people die by fists and kicks than by rifles... people die, people are murdered. It's human nature. But in those situations there is no obligation to be a victim. I don't want to hide under a desk.
"I would rather have a gun to protect myself."
Many were shocked at the number of people who had been killed this year already - just five days into the year.
137 gun deaths in the US so far this year. Incredible stat on @Channel4News

— Leah Kreitzman (@lkreitzman) January 5, 2016
141 people have been killed by guns in the US 2016 already - it rose by 17 during an interview on @Channel4News #OMG

— Martin King (@timekord) January 5, 2016
Others were in disbelief at McCabe's reaction to the shocking statistics:
Amazing. Progun guy on @Channel4News writing off 13,000 deaths as "something that happens"

— Nick Chainey (@NLFG) January 5, 2016
American on Channel 4 news says the ~13,500 people who die by gun every year is just something that happens in a free county. Sure mate.

— new year, same shit (@hoodedhawks) January 5, 2016
And some could not decide whether McCabe was being serious or not:
Is this american guy on @Channel4News for real??!!!

— abbie smee (@abssmee) January 5, 2016
Oh my word! Who was that absolute pro-gun psycho talking to John Snow on channel 4 news just now? Jesus! What an absolute moron! #c4news

— Jo Ka (@jok4p) January 5, 2016
amazing, chilling interview with redneck texan apologist for NRA on @Channel4News - "it's human nature", wow !?

— Richard Newsome (@richnewsome60) January 5, 2016
Facepalm 😑 @Channel4News #idiotguntotingAmerican

— JuliaWhately (@JuliaWhately) January 5, 2016
Was someone seriously just arguing on @Channel4News that there should be no background checks on gun owners? That's just... I can't even...

— Hannah Bradley (@_HannahBradley) January 5, 2016
While the majority praised Snow for his interview:
Congratulations to @jonsnowC4 & the @Channel4News team for showing up the shabby callousness of the gun lobby in the US.

— Mike Berkoff (@MikeBerkoff) January 5, 2016
.@jonsnowC4 updating the total of deaths by guns throughout that interview with that idiot on @Channel4News was genius. #guncontrol

— Dylan Robinson (@Dylanjibmonkey) January 5, 2016
McCabe defended himself on Twitter, saying that Snow was "confused".
We are on different planes of consciousness. I do not think like a royal subject of a crown. This confused the host. https://t.co/ioFE5TZwCr

— Neil W. McCabe (@NeilWMcCabe) January 5, 2016
The interview comes hours after Obama announced his long-awaited gun control measures during an emotional speech on Tuesday.
The proposals, made by executive action against the will of Congress, will improve the background check system for gun sales by expanding the number of buyers who are subject to criminal checks.
The action also sought to improve research into gun violence, increase domestic violence prosecutions and better keep track of lost firearms.
SEE ALSO: