Andy Murray chatted about parenthood with the Duke and Duchess of Cambridge, shortly after his Wimbledon win.
The 29-year-old, who became a Wimbledon champion for the second time after beating Milos Raonic in the final on Sunday 10 July, talked about sleep.
In the clip above the Duke of Cambridge can be heard saying to Murray: "Congratulations, I don't know how you manage it with no sleep.
"How is your daughter doing, alright? Is the family good?"
Murray replied: "Yeah, she's great, yeah, she's actually sleeping!
"The last three nights she slept through, the first three months were tough but she's five months now."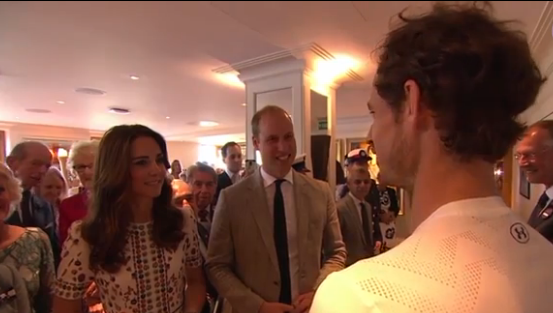 Celebrities at Wimbledon 2015
SUBSCRIBE AND FOLLOW
Get top stories and blog posts emailed to me each day. Newsletters may offer personalized content or advertisements.
Learn more