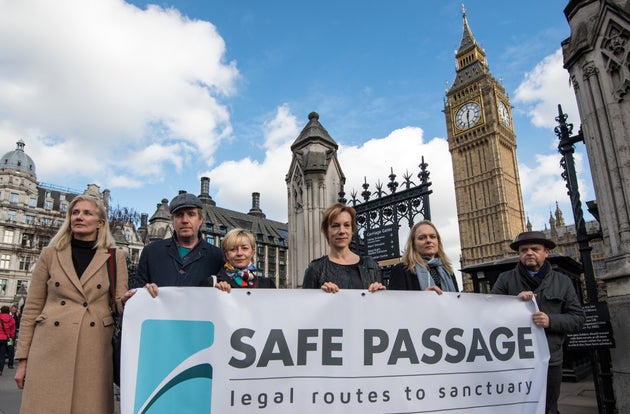 Plans to help unaccompanied child refugees in Europe were defeated by the Government today as just three Tory MPs defied party orders.
Heidi Allen, Tania Mathias and Nicky Morgan were the only Conservatives to back reviving an aspect of the so-called Dubs scheme this afternoon, meaning the Government won by 20 votes.
The measure would have forced local councils to reveal how many child refugees they could provide care for every year.
Speaking after the vote, Lord Dubs said he and other campaigners would "keep at it" to make the Government change its mind. 
After abstaining on the vote, he told Huff Post UK: "The Government gave sufficient commitment to do what our amendment asked which is to regularly publish a safeguarding strategy in May providing details of the capacity of local authorities to support vulnerable children in the UK and including unaccompanied asylum children.
"The challenge now before May is for the Home Office not to close the Dubs scheme prematurely and clarify capacity of local authorities."
Labour MP Yvette Cooper, who is also chairperson of the influential Home Affairs Select Committee, said today's vote was "deeply disappointing".
She added: "Despite the strong cross party support in favour of continuing with the Dubs scheme, and the votes from all sides of the House, the Government has whipped its back benchers to vote against.
"The Dubs scheme was working, and it has only been in place for 6 months so to close it now is completely wrong.
"Local authority representatives told the Home Affairs Select Committee that they had capacity to help more unaccompanied child refugees.
"Charities and the Anti-Slavery Commissioner have warned of the dangers of driving children into the arms of traffickers instead."
Josephine Liebl, Oxfam's Humanitarian Policy Adviser, urged Home Secretary Amber Rudd to "keep this route open and to consider other measures to allow children to join their relatives in the UK and reunite families torn apart by violence." 
She added: "The Government appears willing to decide the fates of child refugees based on guesswork instead of evidence from the councils responsible for accommodating them. 
"Rather than putting in place policies that are in line with the Government's ambition to be a truly Global Britain, it is closing the door on child refugees who have fled terrible violence."
Defending the decision to vote down the amendment, a Government spokesperson said: "We are very grateful for the support local authorities provide to the asylum system – there are more than 4,000 unaccompanied children currently being cared for across the country and thousands more arrive in the UK each year.
"Government departments will continue to work closely with councils to source more places for the most vulnerable children. And we urge more local authorities to join the National Transfer Scheme to relieve pressure on areas where numbers are greatest.
"The UK's doors will remain open to all those who need our protection. We have a proud history of providing sanctuary – and local authorities will continue to play a vital role."
SUBSCRIBE TO & FOLLOW UK POLITICS