Since then Snow has continued to be gloomy in his outlook on Brexit...
Prompted by recent referendum results in Hungary and Colombia (on migrants and a peace deal with rebels respectively), Snow took a swipe at governments putting issues to vote, suggesting the historic Good Friday Agreement could have had a different outcome if it was put to a referendum.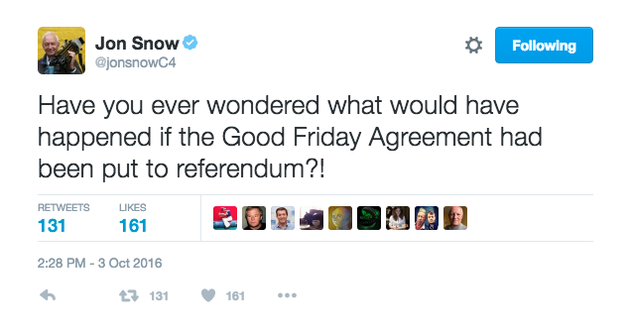 Only thing is, it was put to a referendum.
In fact, there were two referendums, one in Northern Ireland and another at the same time in the Republic of Ireland.
A point more than a few people were quick to point out.
Although some people may have taken it a bit far.
Twitter: possibly the least forgiving medium ever created by man.
The Good Friday Agreement referendums were held on 22 May 1998 with a large majority in both voting in favour.
In Northern Ireland is passed with 71.1% of the vote and in the Republic of Ireland it gained an even bigger 94.4%.
SUBSCRIBE TO & FOLLOW UK DAILY BRIEF