Set in Newcastle (and shown at the event with subtitles in case people couldn't understand the Geordie accent), 'I, Daniel Blake' tells the fictional story of carpenter Daniel Blake who suffers a heart attack and is told by doctors he can no longer work.
An assessment commissioned by the Department for Work and Pensions (DWP) goes against medical advice and rules him too healthy to receive benefits.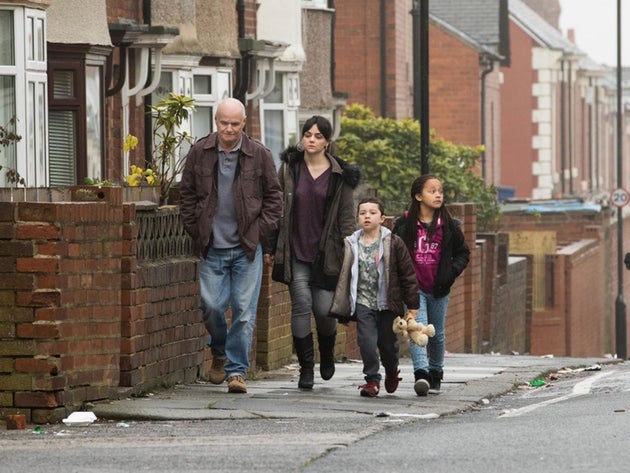 Blake - who befriends the single mum shown in the clip below - is forced to hunt for jobs which he has to turn down as he is too sick.
Loach said: "The most vulnerable people are told their poverty is their own fault.
"If you have no work it is your fault that you haven't got a job.
"It is shocking. It is not an issue just for people in our country, it is throughout Europe and there is a conscious cruelty in the way we are organising our lives now."
Loach, 79, said while researching the film, workers at the DWP admitted to being "humiliated at how they were forced to treat the public".
Many of those involved in the film are from working-class backgrounds including the director and main actors.
Hayley Squires plays the young single mother and her mother still lives in social housing. 
She said: "Normal people are led to believe that this amount of people are on benefits and are therefore scroungers, and this amount of people are going to work to pay so that they can scrounge.
"They've left us to argue among ourselves so they can keep doing what they are doing."
Loach suggested this is what leads to the rise in popularity of groups like the EDL and Britain First.
He said: "It's how the far right rises, isn't it? It's how the far right rises."
The film has been well-received in by film critics.
Loach has a legendary track record in socially conscious documentary-making. Fifty years ago he directed 'Cathy Come Home' which examined homelessness.
 'I, Daniel Blake' is set to be released this year but a date has not been set.
SUBSCRIBE TO & FOLLOW UK DAILY BRIEF