'Sugar Free Farm' is back on TV screens, starring seven new celebrities who are forced to go cold turkey on sugar. 
TOWIE's Gemma Collins, comedian Joe Pasquale and politician Ann Widdecombe are among those who have agreed to turn their backs on their unhealthy diets in favour of hard labour and natural, wholesome food. 
While the show is an amusing watch (after all, what could be more fun than watching irritable celebs feed pigs while on a sugar comedown?), it is also a glaring reminder of the problem our nation faces.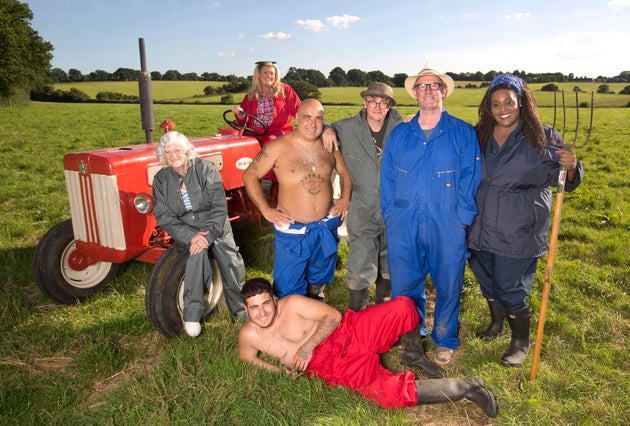 In the first episode, which airs on 10 January, Joe Pasquale reveals that he wants to kick his sugar habit because so many people, including his father, have Type 2 diabetes - and he doesn't want to end up joining them.
He is later shocked to discover that in a year alone, he consumes 16,000 teaspoons of sugar.
Other celebrities attending this year's 'Sugar Free Farm' include Peter Davison (who played Dr Who between 1981 and 1984), father-son entertainment duo Stavros Flatley and TV presenter Alison Hammond - who eats a staggering 666 chocolate bars in a year. 
All of the celebs face the shock of a lifetime when they are told they will not be allowed to eat sugar, honey, syrup, sweets, chocolate, fruit, jam, refined carbohydrates, processed foods, biscuits, cakes, low fat products, fizzy drinks, caffeine, cordial, alcohol and fruit juice, during their stay. 
After being handed the list of what she's not allowed to eat, Gemma Collins looks flabbergasted. "Do you know what? This is my diet that I eat pretty much every day," she exclaims. "How am I going to survive?"  
But, as the farm's resident nutritionist puts it: "Sugar Free Farm is not about dieting, it's a complete lifestyle change."
Breakfasts on the farm consist of healthy dishes like sweet potato, cinnamon granola and green smoothies - much to everyone's dismay. Dinner, meanwhile, consists of carb-free spaghetti bolognese, using spiralised courgette.
As the first day wears on, all of the contestants become cold, tired and irritable. Who knows what they'll do next?
ITV's 'Sugar Free Farm' airs at 9pm on Tuesday 10 January. 
SUBSCRIBE TO & FOLLOW UK LIFESTYLE