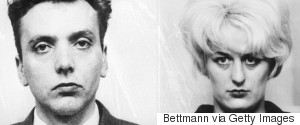 Turning off the main street, Hindley paused for a moment, allowing me to get closer to her. By the time I had hurried the short distance to reach her, she'd already opened the front door of her house, beckoning to me with her gloved hand to come quickly. And I upped my pace to her. Ian Brady suddenly appeared from nowhere and was beside me, his hand on my shoulder, guiding me gently through the open doorway and into the house. I looked straight up at him and our eyes had met briefly. Turning his gaze away from mine, Brady closed the front door behind us.
Dave Dinsmore has arguably got the toughest job in British journalism - to make the Sun great. Like taking on the role of England football manager Dinsmore is accountable for every spit and cough which hits the paper (and don't forget the website.) One week into his tenure in the hot seat what have we learnt?
I began my career in journalism with a number of ambitions. They did not include striking up a correspondence with a serial killer. Yet little over a year into my first posting, with a leading freelance news agency, I was asked to become the point of contact for a man whose very name continues to anger and unsettle...
The press have reported Ian Brady is providing his first public explanation for why he murdered five children in the 1960s, in evidence to a mental health review tribunal. Brady, it is reported, has requested the transfer to be allowed to kill himself by starvation. But is he truly bent on suicide, or is this all a charade to get media attention?
Brady and his crimes, of course, stir up strong emotions and continuing interest from law enforcement. Only in August, Ms Powell was arrested after telling the makers of a television documentary that Brady had sent her a letter to be given after his death to Winifred Johnson, the mother of Keith Bennett, the only one of his victims whose body has still not been found.
Arguments to 'bring back the death penalty' and 'not give Brady what he wants' are flawed by their motivation. Hanging a noose round Brady's neck or shoving a tube into Brady's stomach just because we're angry isn't good enough. Emotion should never be given a place in law.
The tragic news of the death of Winifred Johnson, the mother of Keith Bennett, brings closure to a life of peculiar torment but not an end to one of the most notorious episodes in British criminal history.
Why did you write a novel about her? About Myra Hindley, a woman who killed children? It's the question I'm most frequently asked about my novel, Myra, Beyond Saddleworth, and is both hard and easy to answer. The material was dark and disturbing, and many people can't understand why a writer would persevere with it. But that's the point. Unless we look, really look at the terrible things human beings do to each other, we have no chance of understanding how and why they happen.