For a while, not even Nasa knew about the test, but later it became clear what had happened, and that it had badly affected Ariel-1's ability to generate its own electrical power from the solar generators.
This year's World Space Week is perhaps the most exciting yet. Manned space exploration speaks to something deep within us as humans - it remains the purest, most tangible expression of the question, why are we here? And the greatest daily reminder of the mystery of life is the night sky.
Lunar Mission One also aims to investigate the prospects for a permanent lunar base. The Moon is expected to become an important part in the future logistics of the human exploration of Mars, and to help reduce its huge expense.
NASA, or to give it its full name, the National Astronaut Something Acronym has today admitted to having installed specialist software on Mars, which allowed it to cheat water emissions tests. In a shock revelation, Sooper Noaver, head of Really Far Away Rock Research, made the confession to an undercover reporter, in a Florida bar.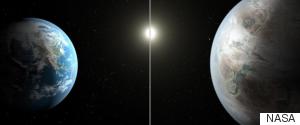 That's why Kepler 452 b has hit the headlines this week. It is the most Earthlike in these respects of the thousands of planets Kepler has identified. Its discovery strengthens the claim that there are literally billions of earth-like planets in our Milky Way galaxy with the size and temperature of our Earth.