Lunar Mission One also aims to investigate the prospects for a permanent lunar base. The Moon is expected to become an important part in the future logistics of the human exploration of Mars, and to help reduce its huge expense.
NASA, or to give it its full name, the National Astronaut Something Acronym has today admitted to having installed specialist software on Mars, which allowed it to cheat water emissions tests. In a shock revelation, Sooper Noaver, head of Really Far Away Rock Research, made the confession to an undercover reporter, in a Florida bar.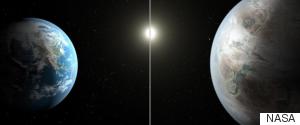 That's why Kepler 452 b has hit the headlines this week. It is the most Earthlike in these respects of the thousands of planets Kepler has identified. Its discovery strengthens the claim that there are literally billions of earth-like planets in our Milky Way galaxy with the size and temperature of our Earth.
Yes, I'm grateful that we have pioneers including Hawking and Milner who are willing to invest. But what about the more immediate problems on our doorstep that simply refuse to budge despite the policies, brain power, human capital and money we've thrown at it.
One of the things that has inspired me in 2014 has been scientific advancements beyond our atmosphere: from the continued work on the International Space Station, to Curiosity's exploits on Mars and Philea's historic bumpy landing on an asteroid - surely the stuff of science fiction!