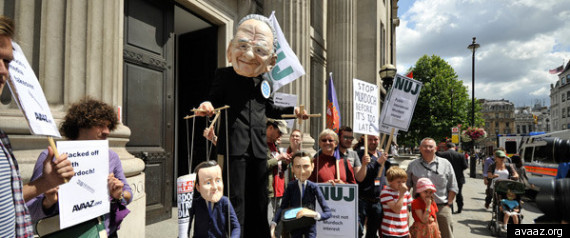 On June 30 2011 activists held a protest outside the Department of Culture Media and Sport against the takeover of BSkyB by Rupert Murdoch's News International.
But while the 8-foot tall stilt-walker dressed as Murdoch manipulating little puppets of David Cameron and Jeremy Hunt was visually impressive, the group's online supporter base outnumbered those at the protest many tens of thousands of times over. Arguably the impact made online was similarly more powerful.
Those organisations, the UK-based 38 Degrees and the global collective Avaaz, count more than a million UK members between them. The vast majority of their work takes place online. Their work is resonating with an alienated, though not apathetic, electorate. Now the government is taking notice.
38 Degrees is barely two years old but says it has more than 800,000 UK members. It began as so many activist groups and protest movements have in the past: through shared frustration.
"There was a huge number of us that had an interest in the way that the country was run and wanted to see progress," says Executive Director David Babbs. "It's just that traditional political institutions weren't working for us. We were inspired by some other groups around the world like Get Up in Australia, MoveOn.org in the US and Avaaz globally, and we kind of borrowed their ideas and tried to do something similar in the UK."
From the moment it launched in May 2009, 38 Degrees' agenda has been set by its members 'from the bottom up' via online polls and discussion groups. That is rare, standing in contrast to its peers in Australia and the US. The first issue 38 Degrees members chose to highlight - a campaign to stop the privitatisation of England's forests - came as something of a surprise to the group's founders. Babbs jokes that the enthusiasm of 38 Degrees' members "almost bullied us into it".
In the end, however, the decision proved something of a masterstroke. The plan to sell-off England's forests was an issue many people cared deeply about, but was still specific enough to be winnable. And win they did. More than half a million people signed 38Degrees' petition to stop the sale, funded research proving the British public opposed the plan, raised £60,000 for adverts to publicise the results and sent 100,000 emails to MPs on the issue. The U-turn, when it came, was also turning point for 38 Degrees. "Now when I talk about it people try to credit me with the strategic insight to make that choice," Babbs says. "But that insight came from our members."
How is campaigning in the UK different to elsewhere in the world?
"When 38 Degrees members meet up offline to do campaigning in their local communities it's subtly different in all kinds of ways," Babbs says. "We have pubs and community centres, whereas American MoveOn members meet up in each others' front rooms". There are major differences too, including the overwhelming desire from 38 Degrees members to retain " very strict non-partisanship" when it comes to political parties, unlike in the States where MoveOn.org tends to be aligned more closely to the Democratic Party. That independence isn't just rhetoric. 38 Degrees have campaigned against the government on forest privitisation but also against Labour on climate change, and continue to lobby all parties equally.
"Those differences tell you something about way the internet has changed in the intervening years since MoveOn launched," Babbs suggests. "It probably also tells you something about the hunger among 38 Degrees members and the UK more broadly for institutions that are genuinely responsive to them."
And is running a group where the agenda is essentially outside of the control of its leadership frustrating? "It creates all kinds of problems in theory which in practice we've found to be either positive tensions or not to exist."
One of 38 Degrees' current priorities is a campaign on NHS reform. The issue is not as clear-cut as forests, Babbs admits, but in some ways the response has been more inspiring for him and his colleagues: "Our members have proven that you can use online organising techniques, and bring lots of people together even when it's not as black and white as forests. I think that's quite exciting."
On the criticisms made by Malcolm Gladwell and others that so-called 'clicktivism' cannot achieve substantive change, Babbs is quick to point out that there is nothing fundamentally different between online and offline activism. The fact that running campaigns online is quicker, cheaper and open simply means that "it's possible for lots of people to get involved in campaigning, elements of which are also offline."
People feel alienated from the mainstream media, Babbs says. 38 Degrees and similar groups have found success because they allow people to participate in the news, not simply passively watch it.
Alex Wilks, a campaign director for Avaaz.org who is based in the UK, agrees: "Avaaz can give people an outlet not just to see that something terrible is going on in Bahrain where doctors and nurses are being pulled out of their hospital for treating protesters, but to then jump on a computer for just a few minutes, sign a petition to say Formula One should not go to Bahrain, and then jump on the Facebook walls of Red Bull, Ferrari, Mercedes and others and get the message out. They can feel they are making a difference and on that campaign there is a real example of where they did.
38 Degrees and Avaaz work together closely on many campaigns, including the recent protest against the BSkyB takeover. The groups share a board member and Wilks says their work is "very complementary". He adds: "very often we find if they launch something and we launch something similar we can add up the numbers and deliver joint petitions."
What does the future hold for 38 Degrees? Typically, and slightly enigmatically, Babbs says that is down to the group's members. Possible campaigns include the rising cost of energy and further work on the NHS, but 38 Degrees will ask their members to decide.
Whatever they choose it now seems clear that they will make their voices heard - and that the parties, the government and the public will be listening.