The mother of Stephen Lawrence has said "today is not a cause for celebration" after Gary Dobson and David Norris were convicted of her son's murder, adding that the verdicts "would not being my son back".
Norris and Dobson were found to have taken part in the attack, which took place in April 1993, at the Old Bailey after a seven week trial.
Speaking outside the court after the verdict, Doreen Lawrence said: "This has been a very difficult time... I would like to thank all those people who have expressed kindness and support.
"I would like to thank the jury for their verdict today. However today is not a cause for celebration.
"How can I celebrate when my son lies buried. I cannot see him or speak to him or see him go to university or get married or have children.
"This verdict will not bring my son back."
In a moment of pointed criticism of the police, who failed to catch her son's killers in previous investigations, she added: "How can I celebrate when I know this day could have come 18 years ago?"
"Had the police done their job properly, I would have spent the last 18 years grieving for my son rather than fighting to get his killers to court."
She added: "I would be grieving for my son rather than fighting to get his case to court. This shows the police can do their jobs properly but only if they want to. The fact is racist attacks are still happening in this country and police should not use my son's name to say they have moved on."
However Mrs Lawrence also said that she wished her son could be remembered as something other than a murdered teenager.
"I now want people to remember him as a bright, beautiful young man who any parents of whatever background would have been proud of," she said.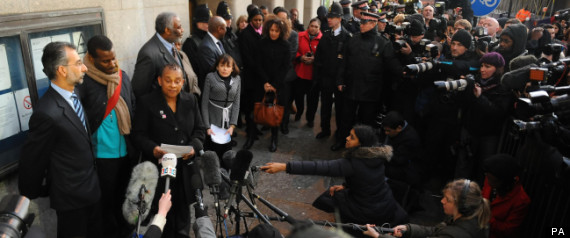 (Above) Press Association
Neville Lawrence, Stephen Lawrence's father, said though his solicitor Jocelyn Cockburn that his life was "torn apart" by the murder of his son, but added that "justice" had been done.]
He said he was conscious there were five or six attackers that night and that he didn't think he would "be able to rest until they are brought to justice".
"I am therefore full of joy and relief that today, finally, two of my son's killers have been convicted of his murder.
"They will be sent to prison and face the consequence of their actions."
The police chief leading the Stephen Lawrence murder inquiry praised the victim's parents for bringing major changes "in society as a whole".
Also speaking outside the court, Acting Deputy Commissioner Cressida Dick said Scotland Yard was "very pleased for the family and those who loved Stephen".
"There have been several investigations over the last 18 years during which the Lawrence family have campaigned tirelessly for justice," she said.
Dick added: "The Lawrence family were kept informed at all stages of the forensic review and subsequent re-investigation.
"We pay tribute to Mr and Mrs Lawrence's courage and dignity.
"They have contributed to major changes within policing, the law and society as a whole."
Dobson, 36, and Norris, 35, were convicted by a unanimous jury at the Old Bailey and will be sentenced on Wednesday. Both had denied their involvement in the killing.
There was total silence in court as the foreman of the jury said "guilty" when asked if the four women and eight men had reached verdicts on the murder charge.
There were tears from Lawrence's parents in the public gallery as the verdict was announced, ending their 18-year search for justice.
Neville and Doreen Lawrence sat separately at the back of the court but both kept their composure and appeared to show little emotion.
But they slowly both began to weep as the results sunk in. Mr Lawrence covered his eyes and Mrs Lawrence was handed a handkerchief.