A bullet-ridden baboon continued to terrorise and intimidate residents of a South African suburb even after being shot more than 50 times.
The death-defying quality of the lead-filled giant baboon was discovered only after the animal, known as Fred, was captured and killed by the authorities in Cape Town. Vets counting the number of wounds were shocked by the baboon's resilience.
The post mortem was captured on camera for a Channel 4 documentary about the animal, which learned how to unzip bags and steal food from cars and houses despite carrying bullets and shotgun pellets around in his head and body.
By the time Fred was captured, he had bitten several people and even learned to listen for the click of central locking before jumping into cars full of people in search of food.
The shadow of fear that Fred cast over the small town was summed up by vet Mark Evans, who said the baboon could "bite like a lion...run like a cheetah...and rule his troop like a despotic emperor".
Mark Evans presents Rogue Baboon: An Inside Nature's Giants Special at 9pm on 10 January.
He said the animal behaved like "the most notorious gangsters", adding: "Fred became very protective of his patch - anyone standing in his way faced intimidation and violence."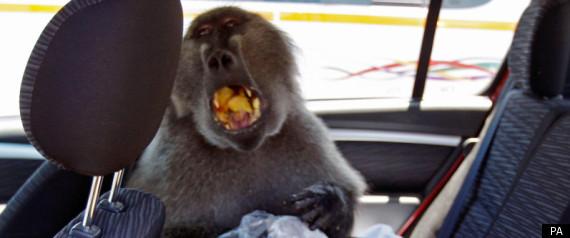 Fred the baboon shows his 'spoils of war' opening his mouth to reveal the food he has stolen from a car.