Authorities are investigating after a water main burst on the UK's busiest shopping street, flooding several large department stores.
The pipe burst overnight on Thursday and flooded 14 shops and premises, a spokesperson for Thames Water said.
The incident on Oxford Street affected branches of Primark, Next, Ann Summers and Superdrug, and closed a section of road between Park Lane and Portman Street.
Up to 18 bus routes are on diversion, and it could take up to a week for traffic to return to normal.
"A 24-inch water main burst on Oxford St, at its junction with Park St, at 8.30pm last night, flooding 14 nearby premises," Thames Water said.
"Our engineers arrived at 9.15pm and by 11pm had managed to close the series of very large valves to stop water running through, and out of, the broken pipe.
"We have been working through the night to clear the mess and begin repairing the pipe - a job set to take 24 to 48 hours. Then rebuilding the road over the pipe is expected to take about a week.
"We are really sorry to those customers whose properties were flooded. Our loss adjusters are liaising with those customers to get the insurance process under way, and get people's lives and businesses back to normal, as soon as possible."
The London Fire Service said that it was not needed to deal with the incident.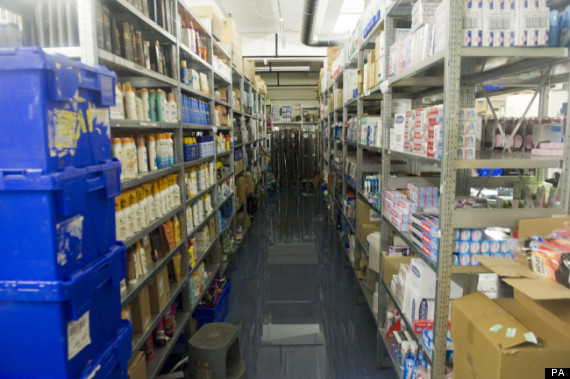 Westminster City Council said westbound traffic was being diverted while a safety assessment took place.
Cleaners were deployed to the site earlier today to clear up debris, a spokesman said.
The council's commissioner for transport, Martin Low, said: "Oxford Street is still open for business, although vehicles are asked to consider alternative routes and avoid the area unless the journey is completely necessary."
He added: "The council pressed Ofwat to accept Thames Water's five-year investment plan in 2010.
"We are disappointed that it delayed, as it would have accelerated the renewal of water mains like this one."
A spokeswoman for clothing chain Primark said its flagship store was trading as normal today. Superdrug said its Oxford Street branch was open as normal but there was flood damage to one of its storerooms.