Grandmother Debbie Hughes has described her shock at finding out she was pregnant again at the age of 53.
Despite taking the contraceptive pill, Hughes found out she was expecting a baby when she began putting on weight.
She had been made so "paranoid" by her family and her partner that she made a trip to see the doctor, who confirmed she was going to have another child, and was already five months pregnant.
Ms Hughes told ITV's Daybreak: "I didn't think it was possible. Not at my age, not at all."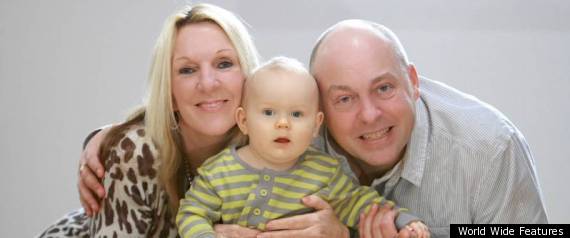 Although she was offered a test to check for abnormalities, she refused despite the increased risk in having a baby at an older age. She has since given birth to a baby boy, Kyle, who is seven months old and fully healthy.
She already had two sons, Mark, aged 26, and 11-year-old Brandon, and is a grandmother to two girls who are both older than their uncle Kyle.
Ms Hughes, a jewellery assistant from Daventry in Northamptonshire, said she was pleased she was not treated any differently from any other woman during her pregnancy.
"Nobody seemed to make a big deal out of it," she said.
"I wasn't treated any different from anybody else. I went through the normal scans and nobody treated me any different, I just did the same as any normal mum."
Being that bit older has not made much of a difference to her energy levels, she said.
"I don't feel any different than I did when I was younger. You're just as tired as when you're 20-something as when you're 50-something."
Her partner, Paul, said finding out she was pregnant took a while to sink in.
"I was shocked originally but then really, really overwhelmed. It's fantastic."
Kyle's brother Brandon, 11, might be happy to hear his mother say the latest addition is definitely the last one.
Brandon added: "He's cool but sometimes he keeps me awake."
Mark Sedler, a consultant gynaecologist at CARE Fertility has said:"Falling pregnant at this age without any form of fertility treatment and for the baby to be born healthy and well is remarkable.
"The odds are about the same as winning the lottery."