Twitter CEO Dick Costolo has addressed the global outrage around Twitter's new country-by-country censorship policy, defending the company's decision to blank out some tweets.
Costolo defended the company's announced censorship in Thailand and other new territories, saying: "There's been no change in our policy. What we were announcing was a capability we now have to leave the content up for as many people around the world as possible while adhering to the local law."
On Thursday 26 January, Twitter, the social networking site used by millions across the world, announced that it will restrict its tweets. In a blog titled "Tweets still must flow".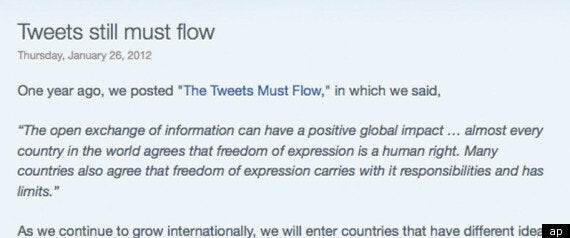 A statement on 27 January read "Starting today, we give ourselves the ability to reactively withhold content from users in a specific country while keeping it available in the rest of the world."
In the interview with Kafka, Costolo reiterated the point, saying: "This is purely a reactive capability. We don't proactively do anything."
Costolo also reminded the audience that Twitter is not planning to censor in China, as it is blocked there. Watch the full interview above.
Twitter users are still using the service to call for a Twitter boycott, following an attempted boycott over the weekend.