It's official: Sainsbury's Tiger Bread is to be renamed Giraffe Bread, thanks to a letter written by a three-year-old girl and the heart-warming response from a customer services member of staff.
Lily Robinson, who is "age three and a half" wrote to Sainsbury's last May, even drawing a picture of her imaginary dog Beaky at the bottom.
"Dear Sainsssssssssssssssssssbbbbbbbbbbbburyyys,
"Why is tiger bread c/alled tiger bread?" she asks.
"It should be c/alled giraffe bread.
Love from Lily Robinson age 3 1/2"
The letter, addressed to Sainsbury's Supermarkets, reached the customer service offices and employee Chris King responded.
"Thanks so much for your letter," he replied last June.
"I think renaming tiger bread giraffe bread is a brilliant idea - it looks much more like the blotches on a giraffe than the stripes on a tiger, doesn't it?"
King then explains the reason behind naming the bread so was because the first baker who made it a "looong time ago thought it looked stripey like a tiger.
"Maybe they were a bit silly."
King encloses a £3 gift card for the store and signs the letter "Chris King (age 27 & 1/3)
"It's a lovely gesture. I feel great for Lily, imagine being that age and learning to read then seeing how big an impact your letter has made. I'm sure her family are very proud and I'm delighted to be a small part of it." King told Huffington Post UK.
And now Sainsbury's has confirmed they will be granting Lily's wish.
"We think renaming tiger bread to giraffe bread is a great idea and want to thanks Lily for helping us see the spots for what they are," the supermarket said on Tuesday.
Lily's mum Lucy told us: "Lily and I went into our local store this morning to see and she was so excited and couldn't stop giggling in the car after that. She is going to have some Giraffe Bread for her lunch today.
"We have been kept in the loop by Sainsburys on this development and are touched that this has happened. Notices by the new Giraffe Bread say that it was a customer's 'clever suggestion' :)"
Lucy added the family did not want to "profit personally" but "would love people who are moved by the story to give to the Disasters Emergency Committee charities to help feed starving children who do not have bread to eat".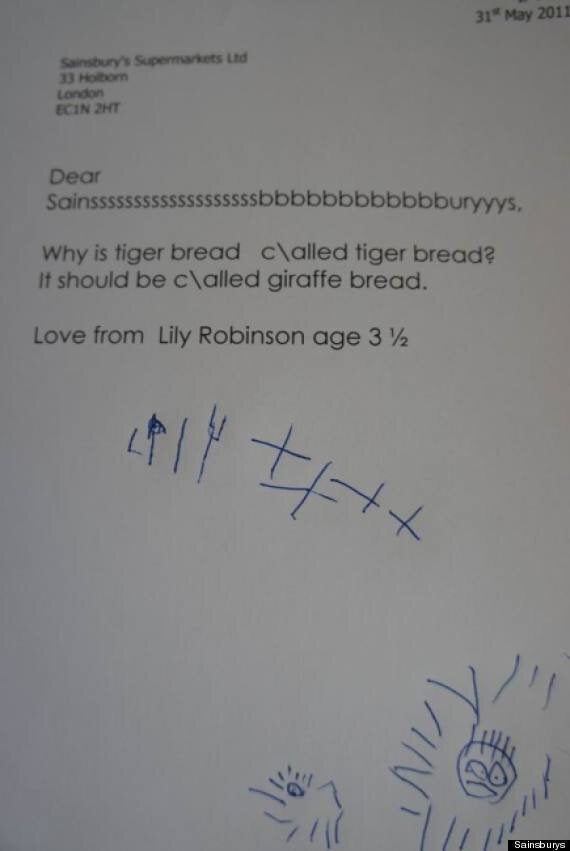 Lily Richardson's Tiger Bread Letter To Sainsbury's