Source: MASONS
A toddler who suffered horrific burns has made a full recovery after undergoing pioneering new surgery - where doctors sprayed on a new layer of skin.
Two-year-old Zed Merrick was left with second degree burns across this chest and shoulder after knocking a cup of tea off a kitchen worktop.
His mother Nicky Merrick, 33, feared he would be left with horrendous scars for the rest of his life.
But doctors carried out a "revolutionary" new treatment where they made a solution from Zed's own skin cells and sprayed it over his burns.
And just four months after the life-changing treatment Zed's burns have completely disappeared - leaving him scar free.
Yesterday Nicky said the result was "incredible" and she hopes Zed will now be able to forget the trauma of the accident.
She said: "This new procedure made a huge difference to Zed and we just want to promote it so that other people can receive it too.
"The first time they took the bandages off we were just like 'wow' the way it worked so quickly was incredible.
"In a normal procedure Zed would have had to have his bandages changed almost every day which can be very painful.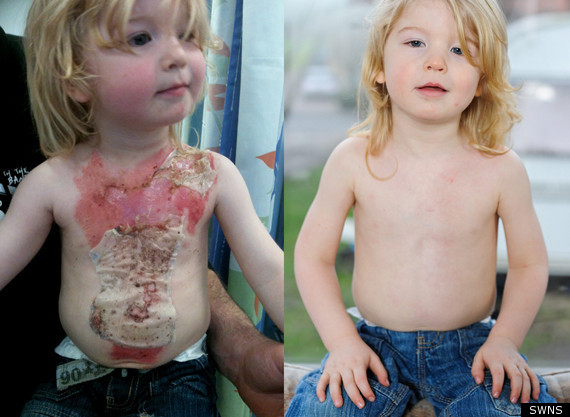 Zed will not need to have skin grafts and has no scar tissue
"We just want to say thank you to the surgeons for helping our little boy, I never dreamed he could look like this again."
Zed suffered his horrific burns on October 13 last year at the home in Ulceby, Lincolnshire, where he lives with his businesswoman mother Nicola and father Chunky, a sound-engineer.
Nicky said: "It happened within seconds, Zed is like lightning, I just couldn't believe it - it was like every parent's worst nightmare.
"My mum was with us and she took his shirt off him and bits of his skin peeled off with it. We rushed him straight into the shower to try and cool the wound but but it was hard because Zed was screaming and struggling in my arms.
"We kept try to put cold wet towels on him but we had to keep changing them because they just warmed up on his body. You could see the skin peeling off straight away, it was horrendous.
"Zed was clinging to me and crying, I remember I was wearing a black fluffy jumper and bits of the fluff were sticking to his chest. It was hard I didn't want to fluff to stick to him, but I knew he needed to be cuddled.
"He was like a wild animal in my arms, thrashing about and screaming, it was terrible to have to see."
The toddler was rushed to the specialist burns unit at Pinderfields Hospital in Wakefield, Yorkshire, where surgeons operated on him for two hours.
Doctors used a technology called ReCell Spray-On Skin, developed by Cambridge-based Avita Medical.
The dead skin is removed before a small sample of healthy skin, around the size of a postage stamp, is removed from the patient's body.
This sample in then placed in the ReCell machine, which uses an enzyme to break down the healthy skin so that it can be suspended in solution.
The solution is then placed into a standard syringe fitted with a nozzle which is used to spray the skin cells over the damaged area.
Special dressings are then applied, but there is no danger of the body rejecting the cells because they come from the patient's own body.
And because the dressings gradually lift off themselves as the skin underneath heals, the patient does not have to go through the painful process of changing them every day.
Zed will also avoid the trauma of needing skin grafts and scar treatment throughout his life as the sprayed-on skin will stretch with his body as he grows.
The ReCell technology has been around for seven years but few surgeons in Britain perform it and Zed is believed to be one of the youngest to receive it.
Jeremy Rawlins, the consultant plastic surgeon at Mid Yorkshire Hospitals NHS Trust who treated Zed, said that one of the reasons the treatment is still rare in this country is because of the cost to NHS trusts.
Mr Rawlins estimates Zed's operation cost £5,000, but the figure varies between NHS trusts. The ReCell machine costs £800.
Mr Rawlins said: "The NHS Trust aren't so interested in the big long term savings. The automatic response is a reluctance to embrace new technology because they are afraid of the costs.
"The ReCell technology is an upfront investment but you have to look at the bigger picture this technology saves on the number of hospital visits a patient needs, saves on the nursing requirements, saves on the pain killers needed, I really believe it is a revolution in care.
"You just can't put a price on the quality of comfort and care a child receives in our hospitals. And when you get a good result like Zed's it makes it all worthwhile."