The death of a schoolboy mauled to death by a polar bear while on an expedition in Norway could have been prevented, authorities have ruled.
Horatio Chapple was killed while on a trip to the Arctic Circle with his friends. The 17-year-old Eton schoolboy suffered head and upper body injuries after a polar bear attacked him as he was sleeping in his tent. Four other members of the party were badly hurt as the animal, believed to be looking for food, went on a rampage.
The animal was later shot dead but the father of one of the survivors said the bear should have been scared away by a trip-wire system, although this reportedly failed to activate.
Norwegian authorities announced on Friday the tour leaders from the British Schools Expedition Society would not be facing charges. But the governor of Svalbard, the island where the fatality happened, said the death had been the result of a "number of unfortunate circumstances", the Daily Telegraph reported.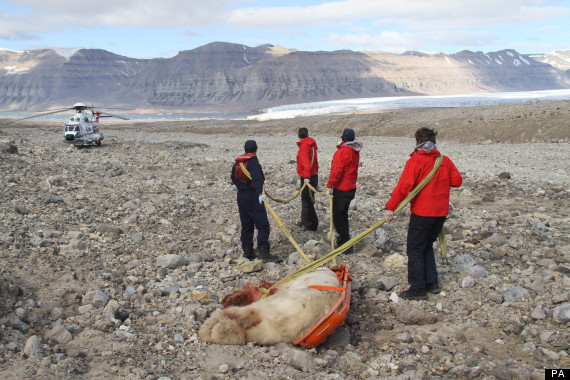 The remains of the 250kg bear being freighted away from the scene of the attack.
The parents of Chapple, who was hoping to study medicine at university, are to appeal the decision.