Former deputy prime minister Lord Prescott launched a campaign to "keep the police public" today, warning that bringing in private security firms could lead to the privatisation of bobbies on the beat.
On Sunday, it was reported that that two forces, West Midlands and Surrey, were set to bring in private companies to investigate crimes and patrol neighbourhoods, with security bidding for contracts worth £1.5bn over seven years.
Lord Prescott, who intends to stand for election as a Police and Crime Commissioner (PCC) in Humberside, wants a public debate on how far the public are prepared to see private firms involved in policing.
He said it was "extremely alarming" that two forces are asking security firms to bid for contracts to run some services that are currently carried out by officers.
Successful firms would have a wide range of responsibilities, including detaining suspects and responding to incidents, but would not be able to arrest suspects.
Policing Minister Nick Herbert has denied private firms will be involved in patrols and said any suggestion that the moves represented the privatisation of policing was "mischievous and misguided".
But Lord Prescott told the Hull Daily Mail: "This is an extremely alarming, fundamental change to our police system. It needs to be nipped in the bud now.
"This is about replacing bobbies on the beat with security people."
He said it was a "grave threat to our traditional police service" and and unacceptable to put security officers in areas where the police have a responsibility.
The former Labour MP for Hull East is concerned about the accountability of private firms, who have a duty to shareholders rather than the public.
West Midlands Police and Police Authority said on Saturday that the force was seeking "expressions of interest" from suitably qualified external organisations.
Chief Superintendent Phil Kay, who is overseeing the project, said: "This is about how we deal with the challenging conditions that we face and how we look to innovative ways to try and continue improving on delivering the service that we provide to communities.
"We want to explore how working with people in the private sector might be able to give us a new dimension and help us transform our service.
"We also want to see what areas of business there are where we can work with partners in the private sector to deliver in a way that is more cost-effective, efficient and helps to improve the service."
But he added that police authorities and chief constables were clear that when it came to arresting people and using force, that will continue to be done by sworn officers.
"Some elements of patrolling it may be appropriate, we are at a very early stage in this process, but the majority of patrolling, the majority of responding of calls to service, will continue to be done by serving police officers," he told BBC Radio 4's Today programme.
But Simon Reed, vice-chairman of the Police Federation of England and Wales, warned it was an "extremely dangerous road to take" and would have "catastrophic consequences for the high level of service the public rightly expect and currently receive".
But former Metropolitan Police commissioner Sir Ian Blair said the forces' plans offered a chance to modernise policing by outsourcing routine jobs and saving money for more urgent, difficult areas of policing.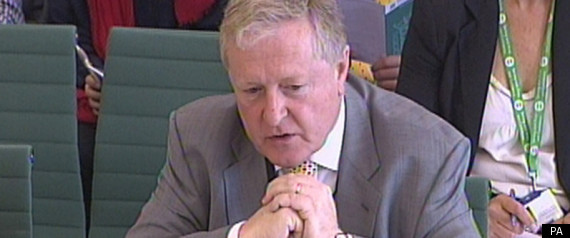 Blair: "Private policing would provide temporary access to skilled staff"
Writing in the Guardian, he said: "The tender offered by West Midlands and Surrey police signals a shift that would allow the private sector to provide staff who can carry out routine and repetitive tasks at cheaper rates."
The move would also "provide temporary access to skilled staff - such as murder inquiry teams - which can be hired for incidents that are rare in most forces but for which all forces must permanently retain a group of very expensive staff", he said.
"This would then allow the chief constable, satisfied that he or she has commissioned these kind of services at a cheaper rate, to spend more of the budget on those parts of the service that require, because of their complexity, their impact on public safety or their centrality to the police mission, to be carried out by fully warranted officers."
But Sir Ian added that there should be "a minimum but sizeable number of fully warranted officers who give each force the flexibility to respond to major, unexpected emergencies" and outsourced services "must still form part of the chief constable's public accountabilities".
A Home Office spokesman said: "Only police officers have the power of arrest and they will continue to patrol the streets, respond to 999 calls and lead investigations.
"The private sector can help to make behind the scenes functions more efficient so that officers can be deployed at the frontline.
"The last government, in which John Prescott was deputy prime minister, introduced private sector involvement in police forces.
"Policing will remain a public service, accountable to the people through elected Police and Crime Commissioners."