Need to get online at a tech conference? Just find a homeless person.
A marketing company has presented a controversial experiment to use homeless people as mobile hotspots at the South By Southwest (SxSW) tech conference in Austin, Texas.
And not surprisingly the scheme has been met with more than a little criticism.
The company, Bartle Bogle Hegarty, has given out the 4G hotspots to homeless people as well as a T-shirt reading "I am a 4G hotspot".
The idea, highlighted by the New York Times, is that customers pay the homeless person some money and get online.
Given that during SxSW Austin is annually flooded by tech writers looking for online access, it's likely the demand is there.
And while some initially thought the idea was a hoax, the company explains on its website that it's a serious project designed to highlight homelessness, and was inspired by 'street newspapers' like the Big Issue magazine.
It said: "Our hope is to create a modern version of this successful model, offering homeless individuals an opportunity to sell a digital service instead of a material commodity.
"SxSW Interactive attendees can pay what they like to access 4G networks carried by our homeless collaborators. This service is intended to deliver on the demand for better transit connectivity during the conference."
The project features profiles of some of its participants.
One, known as Clarence, has a bio which reads: "Clarence is from New Orleans, LA. He prefers the term "houseless" to "homeless". He originally lost his house in Katrina and has had financial trouble since. He considers himself a good guy and tries to be a good friend to people."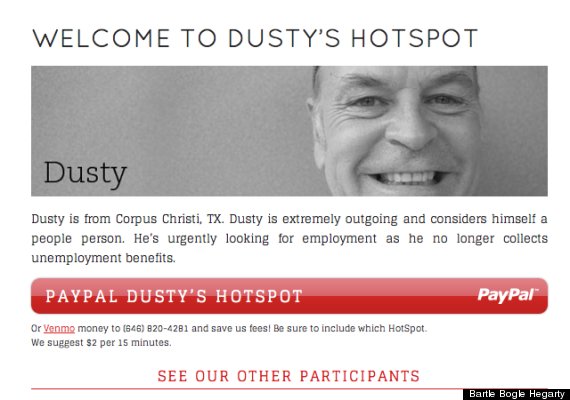 The company even provides a map of where its homeless hotspots are currently located.
As Wired magazine pointed out, BBH has been involved in projects highlighting homelessness before, which were also met with a mixed response.
Some on Twitter said the idea was "brilliant", but others criticised it for a lack of sensitivity and for objectifying the people involved.
One Twitter user said it was "warped", and "convenience dressed as charity".
Another said it was "vile":
Tech website ReadWriteWeb spoke to the creators of the project, who said the criticism wasn't a fair reflection of the idea and its intentions.
"Somehow, our intent has been lost in here," Radia told RRW. "What we're trying to do is say the street newspaper model works. It's the output of it that. ... we fear for its future, and there's no one working on solving this problem."
The creators of the project also denied that safety was an issue, given the small scale of the project and the presence of large numbers of people in Austin during the conference.
They added that they had spoken to several homeless charities, and that their response was "overwhelmingly positive".
Saneel Radia at BBH wrote: "We'd like to not only donate, but to try to help them solve problems over the long term. We may not always be right, but that's never kept us from trying."
BBH later updated their blog post to address some of the criticism:
"We are not selling anything. There is no brand involved. There is no commercial benefit whatsoever," they said.
Insisting the "test program" was scheduled to end on Monday anyway, they also said each of the hotspot managers kept all of the money they earned.
"We'd really like to see iterations of the program in which this media channel of hotspots is owned by the homeless organidations and used as a platform for them to create content," they said.