Your guide to the unmissable art around the UK, brought to you with ArtFinder. This month... London.
New exhibitions: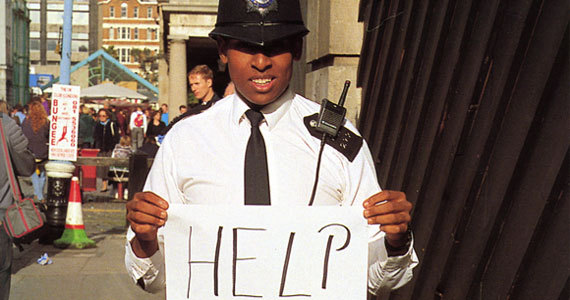 From Gillian Wearing at the Whitechapel Art Gallery
Gillian Wearing
Whitechapel Art Gallery, London (28 March – 17 June 2012)
Tuesday – Sunday 11.00 – 18.00, Thursday 11.00 – 21.00
Full price £8.50, concession £6.50
Turner Prize-winning artist Gillian Wearing produces work that explores the boundaries between the private and personal, the poetic and the political. Straightforward yet deeply moving, her photography and films show us clearly the world and the people around us. This exhibition includes her video work of a reenactment of bullying; a victim, now an adult, is finally able to say to his tormenters what he wanted to as a child. Wearing draws on fly-on-the-wall documentary, reality TV and theatrical techniques (such as using masked actors) to explore self-perception and personal identity.
British Design 1948-2012: Innovation in the Modern Age
Victoria and Albert Museum, London (31 March – 12 August 2012)
Daily 10.00 – 17.30, Friday 10.00 – 21.30
Full price £12.00, student £9, senior citizen £10
Since London first hosted the Olympic Games in 1948 – known as the 'Austerity Games' – British design has changed dramatically as it responded to economic, political and cultural forces. British Design 1948-2012 traces those changes by exploring significant buildings, objects, images and ideas produced by leading British artists and designers. The tensions between modernity and tradition, and the subversive impulse in British culture are thoroughly explored. What is clear is that Britain has been – and continues to be – a leading innovator in design and creativity.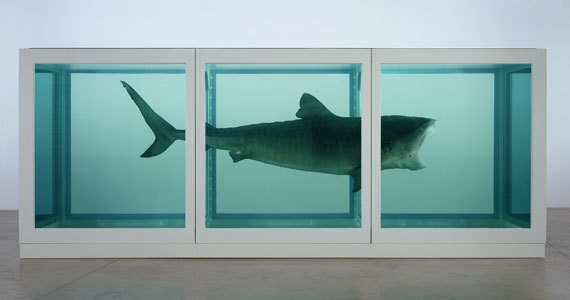 Damien Hirst, The Physical Impossibility of Death in the Mind of Someone Living (1991)
Prudence Cuming Associates
Damien Hirst
Tate Modern, London (4 April – 9 September 2012)
Sunday – Thursday 10.00 – 18.00, Friday – Saturday 10.00 – 22.00
Full price £14, concession £12.20
The first major survey of one of the most influential artists alive today, Damien Hirst at Tate Modern will feature key works from over 20 years, including iconic paintings, pill cabinets, and sculptures such as The Physical Impossibility of Death in the Mind of Someone Living¸ a pickled shark, and For the Love of God, a diamond-encrusted skull. Since their blockbuster sale on Black Monday in 2007, will these works still shimmer in times of austerity?
Titian's First Masterpiece: The Flight into Egypt
National Gallery, London (4 April – 19 August 2012)
Daily 10.00 – 18.00, Friday 10.00 – 21.00
Free admission
Seen outside Russia of the first time since 1768 after years of skilled restoration, The Flight into Egypt is the first masterpiece by one of the greatest artists in history, Titian. After years of restoration, this ambitious and inventive landscape work will be hung beside contemporary Venetian paintings from the National Gallery and other British collections. As well as demonstrating Titian's signature style and use of sophisticated composition, the exhibition illustrates the influence of other artists upon his own practice (see more).
About to close in London: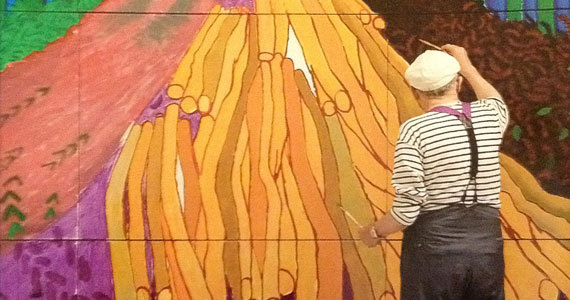 David Hockney RA: A Bigger Picture
Royal Academy of Arts, London
Sunday – Thursday 10.00 – 18.00, Friday 10.00 – 22.00, Saturday 09.00 – 22.00
Full price £14, concessions £13, students £9, children 12 – 18 & income support & unwaged £4, children 8 – 11 £3, under 7 free
IImmerse yourself in the East Yorkshire landscape rendered in a rainbow palette; David Hockney RA: A Bigger Picture exhibits works from a 50-year period, including his latest iPad drawings, a series of films produced using 18 cameras and large-scale oil paintings made exclusively for the Royal Academy. His vast serene landscapes project a calming sense of stillness and illustrate Hockney's emotional engagement with the landscape of his homeland as he explores the daily variations in seasonal conditions, rendered in bold colour. The work reminds us why artists continue to reengage with nature.
Alberto Burri: Form and Matter
Estorick Collection, London
Wednesday – Saturday 11.00 – 18.00, Sunday 12.00 – 17.00
Full price £5, concessions £3.50, students and children free
Despite revolutionising the vocabulary of the post-war art world, this is the first retrospective of Italian artist Alberto Burri to be held in the UK. Exploring the artist's powerful use of humble materials, including sacking and tar, this exhibition spans the artist's career over four decades; from his early figuration in the late 1940s to the highly acclaimed later abstract works. Burri's work is expressive and was a major influence upon Italian's Arte Povera movement – not to be missed!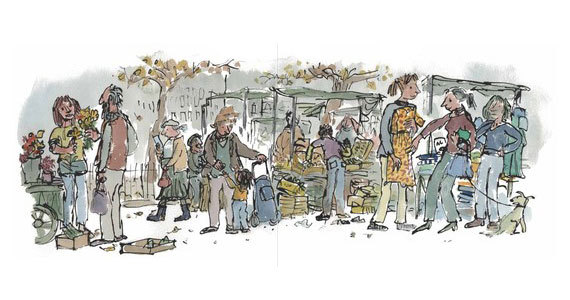 Quentin Blake, from the series Ordinary Life in Vincent Square (2010) © Artfinder © Quentin Blake
Quentin Blake: As Large as Life
The Foundling Museum, London
Quentin Blake: http://www.artfinder.com/listing/uk/london/quentin-blake-as-large-as-life/
Quentin Blake is one of Britain's best-loved and most successful illustrators. Well known for illustrating stories by Roald Dahl, his work combines a raw energy with an understanding for human behaviour, finding subtle humour in places we not would initially think to look. His drawings are honest about human characters and bring to life everyday scenes. This exhibition at the Foundling Museum presents over 60 recent works created for four hospitals in the UK and France, which were designed to have a therapeutic effect on their residents. Prepared to leave with lifted spirits!
Landscape, Heroes and Folktales: German Romantic Prints and Drawings
British Museum, London
Daily 10.00 – 17.30
Free admission
The 18th and 19th centuries were an extremely creative period of German art history, and this exhibition explores attempts to create a sense of national identity through prints and drawing. Artists explored themes such as German landscape and wildlife, mythology, and ancient history, and these are translated into poetic, intricate and beautiful artworks that follow the Romantic aesthetic, inspired by artists such as Raphael.
Awesome prints from all of April's big shows: