A retired tax inspector has been jailed for life for murdering her husband who disappeared without trace 11 years ago.
Shirley Banfield, 64, enlisted the help of their daughter Lynette, 40, to dispose of bookmaker Don Banfield, 63. Both women were given life sentences at the Old Bailey after being found guilty of murder.
Police never found a body, but the court heard how Lynette had written about disposing a body in a creative writing notebook.
In the book she described the smell of a corpse lingering in a car, and how glad she was when she scrapped it.
Shirley was told she would serve at least 18 years and Lynette was given a 16-year minimum term.
They killed Don Banfield, who planned to start a new life without them, in order to get his retirement nest egg. The women were led away still keeping secret what they did with Banfield's body.
Don Banfield had recently retired and planned to leave his unhappy marriage for a new life as soon as the family home in Harrow was sold.
But he "signed his own death warrant" after completing the contract for the sale in May 2001, the Old Bailey heard from Crispin Aylett QC, prosecuting.
Aylett said Banfield had told police his wife and daughter were trying to kill him. He thought his wife and daughter were stealing his letters and even suspected his food was being poisoned - but it was not until he woke up one night to find himself handcuffed to his bed that he really started to panic.
In various versions of the event he said he saw a plastic bag nearby, and wife Shirley was warning him she could do whatever she wanted with him. He started shouting and kicking and was eventually released by Lynette.
Don Banfield said the next day he thought he had been dreaming but realised he had a sore head as if he had been hit. He showed a friend a circular mark on his wrist when he said he had been handcuffed, but Jimmy Brown thought he was involved "in a kinky scene".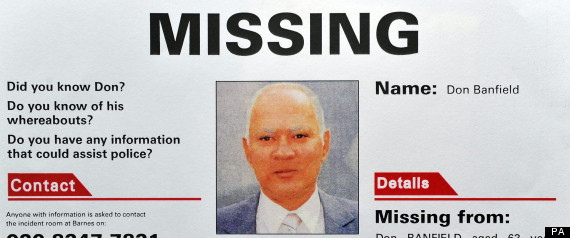 Above: Don Banfield has not been seen until 2001
The day before he disappeared, Don told his doctor that he had woken in the middle of the night to find he had been handcuffed behind his back. He said his wife had been trying to tie down his legs and put a plastic bag over his head, but he managed to get up. Don said that two weeks later, he woke to find his daughter squirting furniture polish into his eyes.
Shirley had then confronted him with a knife, but he did not want police to do anything because he could not risk Shirley knowing he had contacted officers, the court heard.
When Don disappeared the women told police he was a womaniser and gambler and often went off when he had money. Police treated his disappearance as a missing person case until 2009 when the investigation was re-opened after his former employer William Hill became suspicious.
The women claimed to have seen Don in December 2008, but later admitted lying to cover up the fraud.
The two women were arrested last year after inquiries in Britain, Trinidad and New York failed to find any proof that he was still alive.
Lynette's creative writing notebook may have held clues to her father's fate. In different extracts, she wrote about murdering a man, killing women with a pitchfork, putting a body in a car and burying bodies in woods. She wrote that the body had been in the car for only a matter of minutes but the smell lingered on.
"Oh, thank heavens for the scrappage scheme," she wrote.
The women's old red Ford Fiesta car was compacted as part of the government's scrappage scheme in 2008.
Banfield's mother Irene died in 2004 without knowing what had become of him.
Speaking outside court, DCI Howard Groves said: "Don Banfield's family and friends have finally seen justice served. It has taken over 10 years for them to find out what happened to him.
"Shirley and Lynette Banfield convinced themselves they would never be found guilty of his murder, however today's verdict shatters that belief."
Kay Hackett, Banfield's sister, said in a statement to the court: "Years of not knowing where Don was and then discovering the people closest to him had done such a wicked thing was unimaginable.
"Most painful now is not knowing how he died or where his remains may be."