Supporters of an Egyptian presidential candidate have hijacked the Facebook page of Barack Obama in a row over immigration papers.
The President's Re-election Campaign page on the social networking site has been flooded with comments by followers of Hazem Abu Ismail, who may be barred from the forthcoming elections due to his mother's dual nationality.
According to Egyptian authorities, the candidate's mother became a US citizen in 2006, leading the country's election commission to question Ismail's eligibility to stand.
The election rules state that a candidate must be born in Egypt to Egyptian parents. Dual citizenship or marrying a foreigner, even of a parent, would discount the candidate.
However, Ismail's supporters are claiming that the immigration papers pertaining to the candidate's mother are fraudulent, and have demanded that the US publish all documentation regarding the case.
Many thousands of comments have been posted on the page, many of which are in Arabic.
Among those in English, several spell the word "Hazem" across the page, while others repeat the word "Liars" over and over.
One accuses "the CIA and the Zionist lobby" for the supposed subterfuge.
Another warns: "OBAMA you must stop your country from intruding in our country otherwise the consequences will be catastrophic on USA."
One demands to know why the US administration refuses to "display the documents".
Ultra conservative Hazem has accused the electoral commission of plotting against him.
The candidate, who has until 26 April to prove his eligibility, has hired a US legal team to track down his mother's paper work.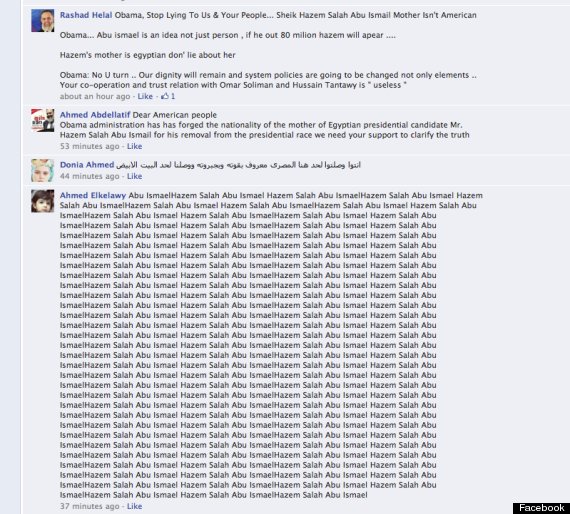 Supporters of Ismail have posted thousands of comments