The bravery of a Leicester shopkeeper who battled a gun wielding robber with nothing but a wooden pole has been caught on CCTV.
Kapil Vaghela, who was alone in the newsagents with his fiance last Thursday evening, immediately pressed the panic button as the masked intruder burst into the shop.
However the burglar continued to threaten the shopkeeper, waving his gun and ordering them to open the till.
"I was not thinking about protecting myself, Vaghela told press after the incident.
"My fiancée was there with me and I was concerned about her.
"I would not call myself brave and I would not recommend this - it could have ended up a shopkeeper has been killed - but I just did it without thinking.
"I think most people would do that for someone they care about."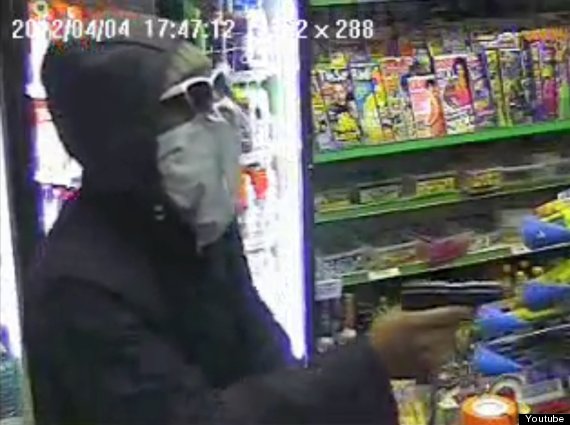 Vaghela had no idea that the gun was in fact loaded with blanks
Dressed in a hooded top, white rimmed sunglasses and a white scarf wrapped around his mouth, the intruder threatened the couple with his gun, while Vaghela attempted to defend them both with a wooden stick.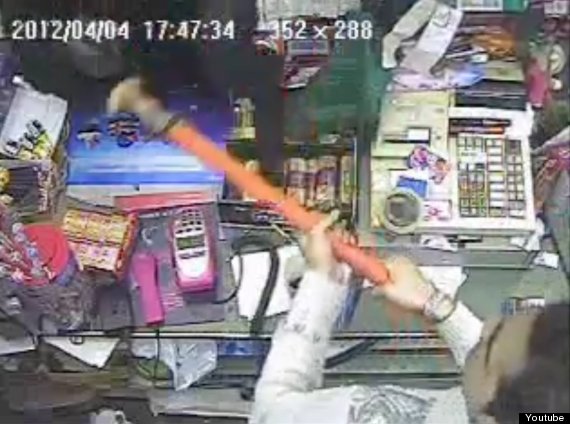 Vaghela used a stick as a weapon
The masked robber fired the gun three times. Vaghela said he thought the gun had missed him the first time, but after the raider aimed the weapon at his leg and he felt nothing, the shrewd shopkeeper realised the man was firing blanks.
Despite his lightbulb moment, Vaghela still held back from hitting the robber over the head "I kept thinking: 'If I hit him I might be liable in some way," he told the Leicestershire paper.
Despite being loaded with blanks police believe the gun was gas powered, and at short range could cause severe injury.
Police are appealing for anyone who may have seen the masked robber, who ran away towards Thurcaston Road after entering the shop at 6pm last Thursday.