The Walking With The Wounded team have been practising some of the skills they will need to climb Mount Everest.
They tested crucial kit such as harnesses, crampons and safety clips, and it was a chance for one of the injured soldiers to try out his prosthetic ice axe for the first time.
Private Jaco van Gass, who lost his left arm in a rocket blast in Afghanistan in 2009, put his own invention through its paces, and realised it needed some minor adjustments.
"It's good to get back on the ice," he said.
"It's the first time I've tested the arm. There are various bits we can change. A spike would work much better, or even just changing the angle of the axe.
"It's great to start practising and getting into it."
Four of the five injured servicemen in the team hoping to reach the 8,848m summit made the short walk from Mount Everest Base Camp to a training area two mountain guides had created.
Former British soldier and mountaineering expert Harry Taylor, 53, and Everest legend Mark "Woody" Woodward, 48, from Queenstown in New Zealand, set up a 10m vertical ice climb as well as a fixed rope course.
Although the conditions will not be identical to those further up the mountain, it was an opportunity for Pte van Gass, 25, Captain David Wiseman, 29, Captain Francis Atkinson, 31, and Karl Hinett, 25, to practice some of their skills.
Pte van Gass experimenting with his ice pick arm attachment
After tackling the wall of hard, scratchy, glacial ice, South African-born Pte van Gass, said: "We'll be facing some stuff like this on the Hillary Step, so it's really good.
"The guides know what they're talking about, and I'm taking in every word they say."
Mr Taylor, who served in the Royal Marines and the SAS, said the ice wall exercise was designed to focus on the team's footwork.
"We're going to do more and more of this," he said.
"It's steeper than most of the stuff they're actually going to do on the South Col route (to the Everest peak), but they will get some sections where it can be bullet-proof ice.
"The Lhotse Face is one point where they might encounter that."
Mount Everest is rigged with a fixed rope that climbers use as both a guide and a safety measure on the arduous ascent.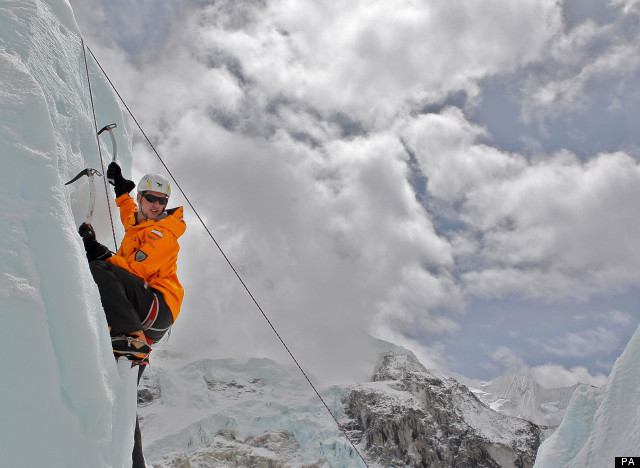 Eight-time Everest summitter Woody put out a line of around 30m to simulate what the team will encounter on the Khumbu ice fall, which is right next to Everest Base Camp.
Mr Taylor, who summitted Everest in 1993 without oxygen, said: "This piece of terrain here is exactly like the ice fall.
"They are going to go from 5,300m to 6,100m through the ice fall, so there's 700m or 800m of travelling, on ladders as well, following a rope.
"There will be difficult lefts, rights, ups, downs, back-to-fronts, squeezes, chimneys - the whole nine yards.
"So all this is totally relevant to what they need to do, and we're going to do a lot of it.
"The guys who have got bigger challenges with an arm missing or a hand that hasn't got full motor function, they're doing great. They're working round it."
Capt Wiseman used the training session to test out his new kit.
He said: "We've got brand new equipment for Everest, so I'd rather test it out now in a safe environment, than discover I've got a faulty carabineer halfway up the Khumbu Ice Fall."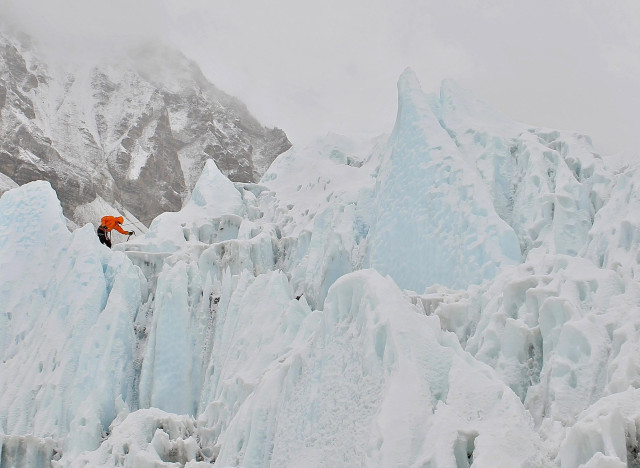 The team will cross the treacherous section at night, because during the day the vast glacier is more likely to melt and move around.
"Some of these blocks of ice are the size of cathedrals," said father of two Capt Wiseman, "So you really don't want to be underneath one when it's starting to shift."
Martin Hewitt, 31, the Walking With The Wounded expedition manager from Widnes in Cheshire, chose not to take part in the training session.
He will join Capt Wiseman from Tadcaster in North Yorkshire, Capt Atkinson from Swindon in Wiltshire, former Private Karl Hinett from Tipton in the West Midlands and Pte van Gass from Middleburg in South Africa to attempt to reach the peak of the world's highest mountain in May.
Walking With The Wounded aims to raise money to help other injured servicemen and women readjust to civilian life after they leave the armed forces.
Prince Harry is the charity patron and last year he walked for the first four days of their successful trek to the North Pole.