An uneasy ceasefire in Syria was reportedly in place on Thursday morning after a week of intense violence in which hundreds of people are said to have been killed by government troops.
The ceasefire, brokered by UN and Arab League envoy Kofi Annan, went into operation at dawn.
"An hour after the ultimatum expired, the situation is calm in all regions," Rami Abdel Rahman, chairman of the London-based Syrian Human Rights Observatory, told the AFP news agency.
But the regime had not moved its tanks and other forces out of civilian areas, which was also a condition of Annan's six-point plan for a planned cessation in violence.
Activists reported isolated outbreaks of violence, but no casualties.
The Avaaz network said that four separate violations of the ceasefire had been recorded.
It said that shelling was recorded after the deadline in the Al Zalah area of the Damascus suburbs. Shells were also said to have fallen on a mountain close to Hama and onto residential neighbourhoods in the city.
It also reported that machine-gun fire was also heard in Hama.
However it said that it could not independently verify the claims, and said no injuries or deaths had been reported. Above: Syrian foreign minister Jihad Makdissi
Syrian foreign minister Jihad Makdissi told BBC Radio 4's Today programme that President Assad's government had no intention of breaking the ceasefire and had already made several military drawbacks.
He said: "There is no reason to break the ceasefire at all. What is important is everybody should abide by the terms of calm."
"It is not about President Assad.... the realistic prospect is it is up to Syrians themselves to decide. Anybody who wants to change the regime in Syria, they should not be forcing this, they should do it through democratic channels.
"I'm not saying we don't have problems in Syria. What I am saying is the way out is evolution and not armed confrontation."
Makdissi said there could be no pre-conditions, such as the departure of President Assad, on any process.
In an interview with the BBC David Cameron urged Russia and China to join the world in "tightening the noose" around the Syrian regime.
The PM said Bashar Assad's "deliberate flouting" of the latest peace plan showed that further action was needed.
Cameron said: "I feel an immense sense of frustration because the world has come together behind this Kofi Annan plan.
"This is a plan, remember, that is not just backed by those of us who have been pushing for action on Syria, it's also backed by China and Russia. And yet Assad is deliberately flouting it.
"Now is the time to say to the Russians and Chinese, look at the man we are dealing with, look at the appalling way he is behaving. We need to go back to the UN and tighten the pressure, tighten the noose."
Foreign Secretary William Hague said: "If there isn't a ceasefire or the ceasefire is not upheld in the coming days then in the view of the United Kingdom we will want to return to the Security Council in a new attempt to obtain a resolution."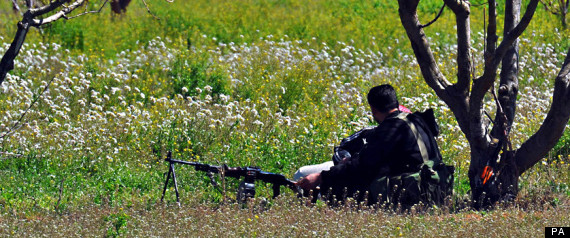 Above: a soldier from the Free Syrian Army
Meanwhile the United States said Syria's promise to respect the ceasefire had "little if any credibility".
On Wednesday President Assad's regime said it would honour the ceasefire while remaining on alert for violence by the opposition.
"After our armed forces completed successful operations in combating the criminal acts of the armed terrorist groups and enforced the state's rule over its territory, it has been decided to stop these operations from Thursday morning," said state TV, quoting a ministry official.
It added its forces would be on "stand-by" to counter any new threats.
Earlier Annan, acting as special envoy for the United Nations and the Arab League, said the government had given him assurances they would keep their side of the ceasefire deal.
"If everyone respects it I think by six in the morning on Thursday we shall see improved conditions on the ground," Annan said after meeting Iranian foreign minister Ali Akbar Salehi in Tehran.
Activists said at least 11 people had been killed in Homs on Wednesday.
More than 1,000 people have been killed in Syria in little over a week, activists said. The UN estimates more than 9,000 people have been killed since the start of the uprising in March 2011.