Four passengers were injured when a Virgin Atlantic plane had to make a full emergency landing at Gatwick airport today with reports of a small fire on board.
The travellers, who suffered minor injuries, were among 229 passengers on the Florida-bound Airbus A330 which had left Gatwick at 10.48am.
The plane returned to Gatwick and, due to what Virgin described as "a technical problem", the captain decided as a precautionary measure to evacuate the aircraft immediately.
Virgin said that all passengers and the 13 crew were safely disembarked and there had been "four minor injuries".
West Sussex Fire and Rescue Service said it was called at 12.21pm to reports of a "small fire on board an aircraft", which had made a full emergency landing.
A spokeswoman said six fire appliances were called to the scene.
The plane made a safe landing with emergency services on standby.
Flights in and out of Gatwick were suspended from the time of the emergency landing until around 2pm, with a number of incoming flights diverted - some to Stansted airport in Essex.
Gatwick warned that it was operating a reduced service and some passengers could expect some knock-on disruptions and delays.
The passengers from flight VS27 to Orlando were looked after in a special reception area at Gatwick.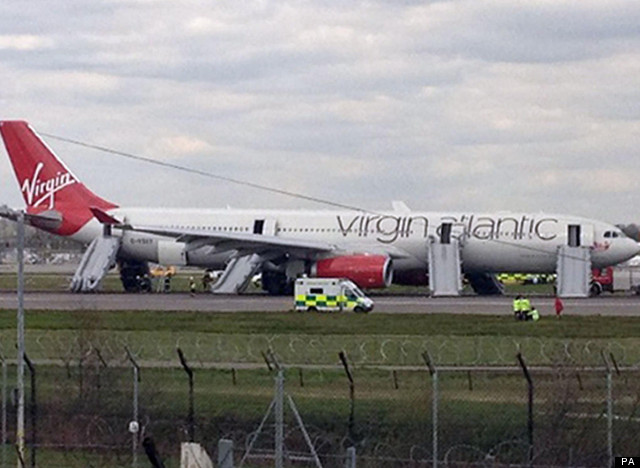 The Virgin plane after it had to emergency land and evacuate due to a 'technical fault'
Virgin Atlantic's president, Sir Richard Branson, tweeted: "Very sorry to all passengers on board VS27. The staff @virginatlantic are doing everything they can to look after everybody. More info soon."
Lorna Willson, 23, who works in a building that overlooks the runway, said she saw the immediate aftermath of the landing.
She went on: "I was just eating my lunch and I noticed the plane. They usually take off quite quickly but this one didn't go anywhere.
"Then I realised all the chutes were out and there were lots of fire engines and police.
"I think the passengers had been taken off, but you could see a few stewardesses. There was quite a lot of emergency services there."
Virgin Atlantic said: "Our teams at Gatwick are now offering full support, looking after our passengers and assisting with their immediate requirements.
"We are working closely with the authorities to establish the cause of this incident. The safety and welfare of our crew and passengers is our top priority."