A lay judge on Anders Breivik's trial has been dismissed after calling for the 33-year-old to face the death penalty in comments on Facebook published shortly after the killer massacred 77 people last July.
The court was adjourned for 30 minutes on Tuesday morning as judges held an emergency meeting, before the judge ruled Thomas Indrebo's online comments would "weaken the trust in his impartiality" and dismissed him as a lay judge.
"The fact that Mr Indebro did not state that he had given such impressions will weaken the case in his impartiality. Mr Indebro shall be dismissed as a lay judge," Wenche Arntzen said.
He will be replaced by Anne Wisloff.
The Norwegian killer had smiled as the court's judge raised concerns over the impartiality of Indrebo.
"The death penalty is the only just sentence in this case!!!!!!!!!!" the message read.
Breivik is giving evidence to court about why he committed the atrocities in Norway, however the killer's testimony will not be broadcast.
Breivik pleaded not guilty to the twin attacks on Monday, saying he acknowledged the bombing and massacre but carried them out because of "self defence." Breivik sipped water as horrific details of his mass killings were read out in court He told the judge: "I do not recognise the Norwegian courts"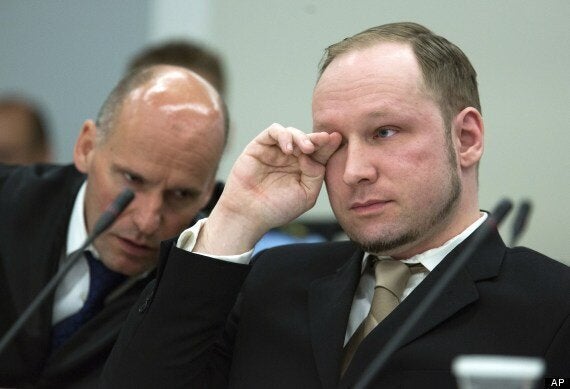 The killer wipes away a tear as the court sees his propaganda video
He also displayed no emotion when he was played a tape of a 22-year-old Renate Taarnes's terrified phone call to police during the Utoya attack, where she whispered: "He's coming! He's coming."
Overall 102 names, dates of births and details of those Breivik killed and injures were read in court over 30 minutes.
At court yesterday Breivik's defence lawyer Geir Lippestad said evidence from the killer would be crucial "for the court to decide on an independent basis whether he is legally sane and can be punished or not."
He said Breivik wished to be sentenced as a sane person, stressing: "The defendant's wish is to be sentenced as a legally sane person. So our evidence will support that claim."
"It's a historical date for Norwegians," she told the BBC. "We never had a trial like this, so we don't know what's going to happen. Armed police walk in the street outside the Oslo district courtroom
"Prosecutors told me they were going to make the opening statements awful, so that people can just feel what he did right there."
He is due to give evidence for five days, explaining why he set off a bomb in Oslo, killing eight, before gunning down 69 people, mostly teenagers, at a Labour Party youth camp on Utoya island, outside the Norwegian capital. The police van with terror charged Anders Behring Breivik leaves the Ila prison in Baerum, Norway
Since Breivik has confessed to the July 22 attacks - claiming they were necessary to protect Norway from being taken over by Muslims - the key issue that remains unresolved is his mental health.
Breivik attempted to justify his views in a 1,500-page manifesto published on the internet before the atrocities. Prosecutors showed images of Breivik taken from his manifesto. A badge on the uniform read "Marxist Hunter"