The Duke of Edinburgh, Prince Phillip, has revealed the moment "all hell broke loose" during the Battle of Cape Matapan in the Second World War, in a rare recollection of his time as a serving navy officer.
The Duke of Edinburgh reminisces about the chaotic three day onslaught off the Greek coast in a foreword to Dark Seas: The Battle of Cape Matapan which documents one of Italy's worst defeats at sea.
Only 19 years old at the time, Prince Philip was given a military award for his service on board HMS Valiant, and recalls how he was ordered to operate the search light, finding enemy ships in the darkness.
"I seem to remember that I reported I had a target in sight," he writes.
"I was ordered to 'open shutter'. The beam lit up a stationary cruiser, but we were so close by then that the beam only lit up half the ship.
"At this point all hell broke loose, as all our eight 15-inch guns, plus those of the flagship and Barham's started firing at the stationary cruiser, which disappeared in an explosion and a cloud of smoke.
"I was then ordered to 'train left' and lit up another Italian cruiser, which was given the same treatment."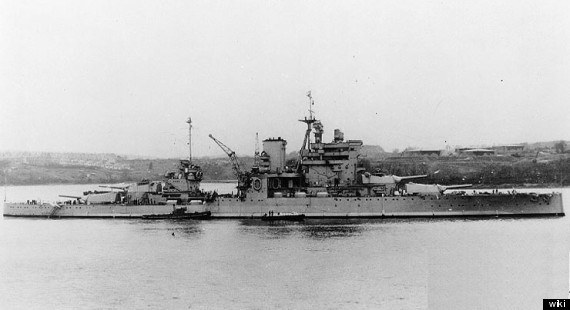 HMS Valiant
"The next morning the battle fleet returned to the scene of the battle, while attempts were made to pick up survivors. This was rudely interrupted by an attack by German bombers.
"The return to Alexandria was uneventful, and the peace and quiet was much appreciated," the Duke wryly finishes.
His exciting account of life on board HMS Valiant should be treated as 'faction' (a blend of fact and fiction) however, as he warns: "all theses events took place 70 years ago, and, as most elderly people have discovered, memories tend to fade."
Prince Philip, now 90, joined the Royal Navy in 1939 as a 17-year-old cadet. Although he rose through the ranks quickly, at the time of the Battle of Cape Matapan he was only a lowly midshipman, a position he terms "the lowest form of life in the navy."
Awarded the Greek Cross of Valour for his courage in the battle, the young Prince was also mentioned in Despatches, by his Admiral Sir Andrew Cunningham.
However rising quickly through the ranks, by the time Prince Philip became engaged to Queen Elizabeth, in 1947, he was a Commander, after being promoted aged 21 to a Lieutenant, one of the youngest officers in the Navy to be second in command of a ship.
Dark Seas: The Battle of Cape Matapan, is the first book in a series documenting the great naval campaigns of the Second World War.