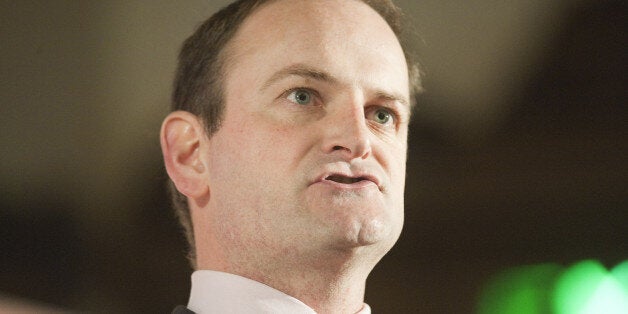 The veteran Tory backbench MP who was told to "get a sense of humour" by David Cameron on Wednesday has said the impact of the Budget on voters is not something to laugh about.
Douglas Carswell raised concerns during prime minister's questions that the government was being blocked in efforts to reform public services by an over-powerful civil service.
Carswell, asked: "A few weeks ago in this House, I asked to what extent the prime minister believed the Sir Humphrey machine was frustrating reform. He said it wasn't. Last week in Asia, he said 'Yes Minister' was true to life. Can he say what has changed his mind?""
Cameron dismissed Carswell's question and suggested that he "get a sense of humour". However that answer appears to have upset many who feel the MP for Clacton has a point.
Speaking to The Huffington Post UK, Carswell said he was sure he would "get over it someday" but it was not necessary for the prime minister to react so "glibly and slightly aggressively".
"I can do humour, but right now they are not laughing about the budget in Clacton, they're not laughing about the lack of economic growth in Clacton, there not laughing about 20% VAT hike on static caravans in Clacton," he said.
He added: "I didn't feel it was an appropriate day to do gags in the Chamber."
Carswell said he was asking a "perfectly serious and ernest question" about why the "bold and radical" reforms planned for the public services and for the political system appeared to have been abandoned.
"Why haven't we been bolder after two years?", he said.
Carswell told HuffPost that he feared ministers had become hostage to a civil service that had its own agenda and wanted to stymie reform.
"We have a political unit [in Downing Street] stuffed full of civil servants, and we find too often minsters are in fact departmental spokesman, and the departments run them.
Lamenting the departure of Steve Hilton, Cameron's former chief adviser credited with pushing for radical change, Carswell said: "There is something to be said to have political heavyweights in No. 10."
Carswell said that one way the prime minister could address the problem would be to force senior civil servants to appear before Commons select committees to account for their actions and justify both their budgets and their continued employment.
He said a prime example was how the Home Office dealt with immigration.
"The minster ends up apologising and defending the nonsense that is the UK Border Agency, so why not have Keith Vaz [the chair of the home affairs committee] summon the head of UKBA every year?"
Carswell said while he did not "give two hoots" about how Cameron spoke to him, he worried: "what does it say about tacking these issues?"
Related