The Duke and Duchess of Cambridge walked the red carpet tonight as they highlighted Africa's threatened wildlife at the UK premiere of a big-cats film.
William and Kate were dazzled by dozen of flashguns when they arrived for the screening of the nature documentary raising funds for the Duke's UK-based animal conservation charity Tusk Trust.
The royal couple, who celebrate their first wedding anniversary on Sunday, stepped from their chauffeur-driven car and walked the short distance to the BFI Southbank in London as banks of photographers shouted for their attention.
Kate was wearing a Matthew Williamson grey dress, with three-quarter-length sleeves and coloured, beaded detail around the neck and sleeves, while William looked smart in a dark suit.
SEE ALSO:
Mark Knopfler, lead singer of the group Dire Straits, was among the guests along with filmmaker Guy Ritchie and Dragons' Den judge Deborah Meaden, a patron of Tusk Trust.
The wildlife film tells the story of life on Kenya's plains for a pride of lions and a family of cheetahs as they battle for survival.
Hollywood star Patrick Stewart narrates the true-life story of cheetah Sita bringing up her five cubs in the Masai Mara game reserve and of Mara, a six month-old lion cub being raised by her mother Layla.
William is a self-confessed lover of Africa, its people and wildlife, and has worries about the current animal welfare crisis that has seen renewed interest from poachers in elephant ivory and rhino horns.
Demand from consumers in the Far East and China has seen prices for the animal products rise significantly in recent years.
Charlie Mayhew, co-founder of Tusk Trust which has William as its royal patron, said about the Duke: "He's passionate about Africa and ... he's very concerned about the current crisis.
"We are now seeing daily reports of elephants being poached across the continent and in South Africa, the country has lost 170 rhinos already this year."
He added that the number of cheetahs on the continent stands at around 10,000 to 12,000, while estimates suggest only 25,000 lions are left in Africa.
Mr Mayhew described the Duke's ability to get the wildlife message across to the public as vital for his charity's work and the efforts of others.
He said: "It's enormously important and enormously valuable to have as our royal patron Prince William. His role, despite the Tusk agenda, on the global stage (is important) not just for our work but communicating the conservation message that everybody in conservation wants to get across. He's a powerful advocate for conservation in general."
He added: "Kate as we know got engaged to Prince William out in Africa and she's got the same general love of the continent as he has. She very kindly came to LA (with William) to launch our USA patrons circle. I cannot tell you how successful that was."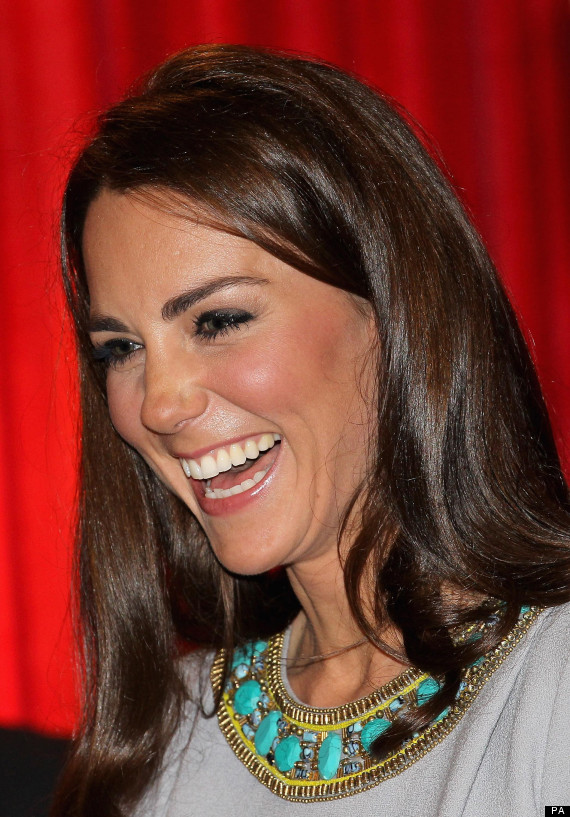 A smiling Duchess at the film premiere held at the BFI Southbank, London
Mark Knopfler, who has sold millions of albums with his group Dire Straits, met the royal couple briefly inside BFI Southbank along with other guests and the makers of the wildlife documentary.
The musician and composer said afterwards he would be staging a fundraising event for William's wildlife charity.
He said: "I'm a supporter of Tusk and everything it's doing, I'll be doing a special show at the Royal Albert Hall for Tusk.
"I've just come back from a horse riding safari and it was inspiring."
William and Kate also met children and young adults from charities that have the Duke and Duchess as patrons.
Princess Briggs, a former homeless teenager now a resident at a south London centre run by Centrepoint, which has the Duke as its royal patron, said after chatting to the special guests: "It's a great opportunity I'm speechless. Kate is a role model, she's real class."
The 18-year-old, who arrived in the UK from Sierra Leone four years ago, said about William: "He was talking to me about Centrepoint and how I'm doing there. I was trying to explain to him I have a lot of facilities. I have my own room. I have mentors. I feel safe and I feel comfortable."
Tom, 13, and nine-year-old Kitty Rawlinson, the children of Tusk chairman Iain Rawlinson, both described their surprise at how normal the royals were.
Kitty said: "She seemed like a really down-to-earth person, I thought she would be more formal, she was down to earth, that was really good."
Her brother said: "I also thought he was really cool. We had seen him at the wedding. He looked really humble."
William and Kate both spoke to Emmie Smith, nine, of Chobham, Surrey, a patient of the Royal Marsden hospital who has been in remission since February after two years and three months of treatment for leukaemia.
"She told me I looked very pretty," said Emmie.
Her mother Marie, 43, said: "The Royal Marsden rang us about 10 days ago and asked if Emmie would like to come along as a guest of William and Kate. I couldn't tell her [at first], just to make sure it was going to happen. When I told her, she jumped up and down with glee. Everyone knows we were coming here tonight."
After the screening William gave an impassioned speech, calling for the world to try to halt the threat to lions and cheetahs.
He started by joking about the emotional roller coaster the audience had been through watching the cubs grow up.
OPINION: What do you think of Kate's dress? Leave your comments below
William said: "Wow - that was amazing. I'm emotionally exhausted. There's more drama in that than EastEnders. What that told me was - who needs men?"
He added: "African Cats shows graphically the battle for survival facing every lion and cheetah born in the wild.
"The natural challenges are formidable enough, without man's interference.
"Loss of natural habitat, due to encroachment by human beings, is the principal reason that there are today around just 25,000 lions remaining in the African bush - 50% less than 20 years ago.
"There could be as few as 12,000 cheetahs. The population distribution of these marvellous creatures is patchy as well. Kenya, with around 2,000 lions, has as many as all of West and Central Africa put together."
He added: "I say this not to be despondent, but to sound a rallying call.
"We must act now, coherently and together, if the situation is to be reversed and our legacy - our global, natural legacy - preserved. Tomorrow will be too late."
William went on to highlight the plight facing rhinos and elephants: "Both are being mercilessly and illegally poached at a rate not seen for decades. Unless this stops, these two majestic animals will be, in a few short years, but a memory in the wilds of Africa. Ladies and gentlemen, this cannot happen. We mustn't let it."
As a possible solution, the Duke said that education was key both for Africans worried about predators attacking their livestock and for people who drive the demand for ivory and rhino horn.
Check out the couple on the red carpet:
Kate And Wills At The BFI