A man has been arrested after a three-hour siege which led to one of the busiest roads in central London being closed off.
Police said: "We have made an arrest. A man has been arrested and a search of the buildings is underway. The cordon around the area will be removed in due course. There are no indications of hostages involved."
Police evacuated office buildings and sent a negotiator to Tottenham Court Road, central London, after a man, reported to be wearing gas canisters, stormed into an office and threatened to blow himself up. He was reported to be 50-year-old Michael Green.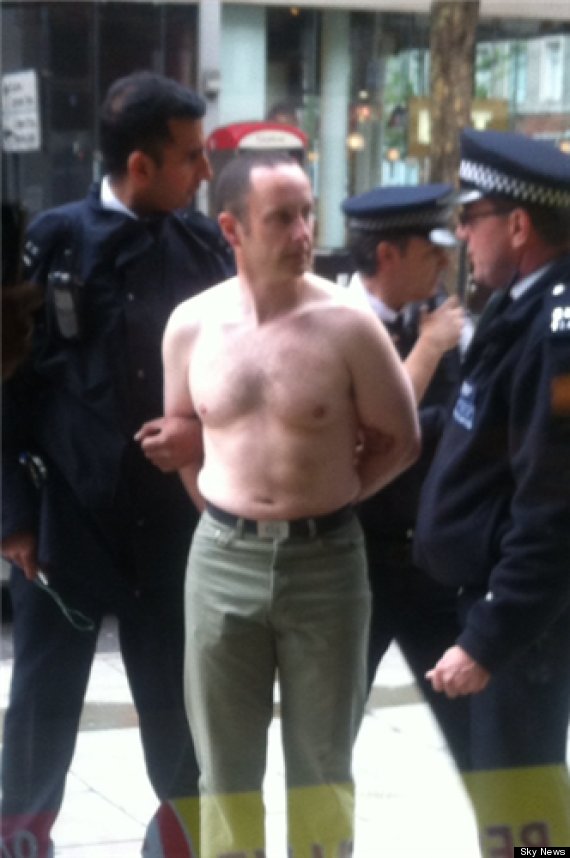 A shirtless man, believed to be Michael Green, is led away from the scene by police
The Met police's Mak Chishty told journalists police were concerned he had "explosive materials": "We were called at midday to reports of a man causing a disturbance on Tottenham Court Road. He was located on the fifth floor at the building on number 179. Items were thrown from the window onto the street below. We were concerned that he may have explosive materials or flammable liquids with him.
"Our immediate concern was for the safety of the people inside the building and for the general population in the vicinity. Specialists metropolitan police negotiators were brought to the scene with colleagues from the London Ambulance Service, the London Fire Brigade and specialist firearms officers. During the course of the incident a number of people who were inside the building left the vicinity.
"After contact with our specialist police negotiators the man came out of the building and was arrested at 3pm this afternoon. He is now in police custody. We are currently searching the premises to ensure that they are safe and will begin the process of returning the area to normality as soon as possible."
Asked about what police said to the man he said he would not go into detail. "It was a local man, the matter was quite local."
Abby Baafi, 27, the head of training and operations at Advantage, a company which offers HGV courses, said the man had targeted her offices and had held four men hostage. She told The Huffington Post UK: "He just turned up, strapped up in gasoline, gasoline cylinders. Basically he threatened to blow up the offices. Says he doesn't care about his life, doesn't care about anything."
"He was specifically looking for me but I said 'My name's not Abby' and he let me go."
Baafi said the man had failed the HGV training course and wanted his money back.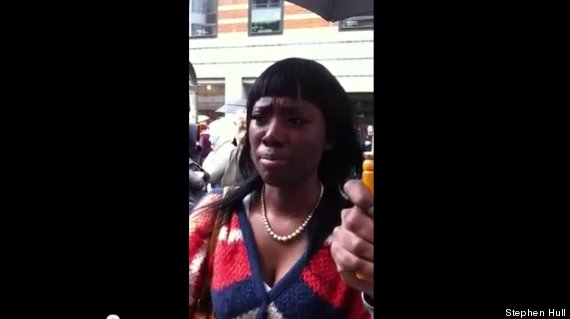 Pictures emerged of computer and office equipment being thrown through one of the office windows.
The scare sparked a major security alert, with Tube stations closed, businesses evacuated and one of the capital's busiest shopping streets shut.
TVs being thrown outside the window of the offices
Scroll down for more images and tweets