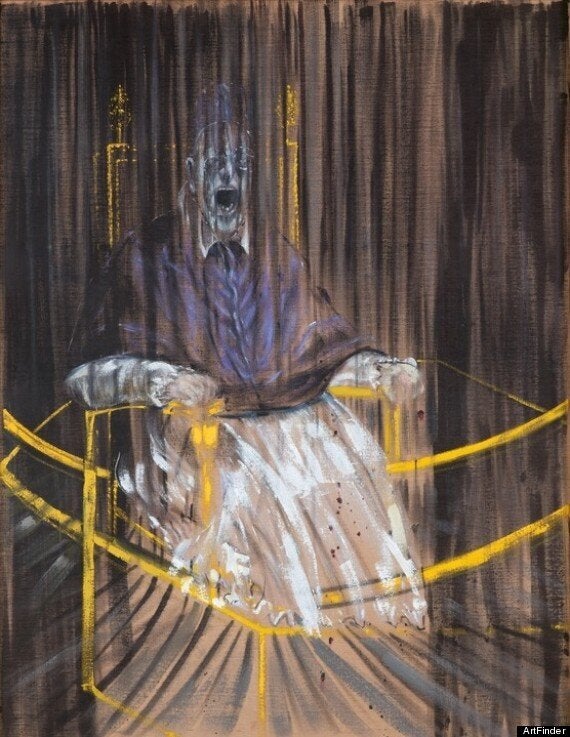 Francis Bacon, Study after Velázquez's Portrait of Pope Innocent X (1953)
This month, on the 28th of April 2012, we commemorated the 20-year anniversary of Francis Bacon's death, an artist whose work was intrinsic to the development of 20th century British art.
Born in Dublin in 1909, Bacon spent the majority of his life working in London, developing a distinct style of figurative painting.
Acclaimed for his paintings of distorted human figures, he was a true modernist who worked at the interstice between abstraction and figuration, capable of mutilating his human subjects and transporting you into the realm of horror and psychosis.
Bacon's work is instantly recognisable for its raw, introspective depiction of the human condition, focusing frequently on themes such as death, crucifixion and the human form, his dedication to which has made his works iconic, captivating and capable of sparking a morbid curiosity in us all.
Margaret Thatcher famously described Bacon as 'that man who paints those dreadful pictures', quite an honour indeed. His serial portraits focus on the distorted psychology and the humanity of man, and this painting, Study after Velázquez's Portrait of Pope Innocent X (1953) – our Artwork of the Week – is no exception.
A rework of a famous 17th century portrait by the Spanish artist Diego Velázquez, Bacon has transformed the religious imagery into a horror scene to showcase the evils of man over the virtues of Christ.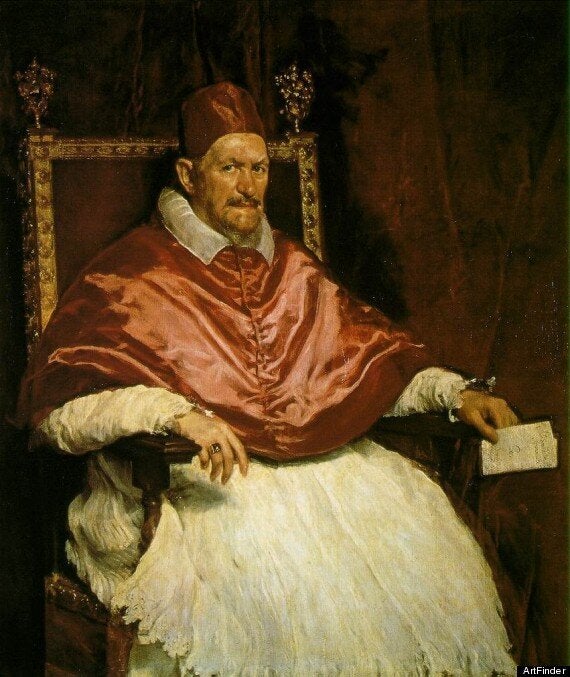 Diego Velázquez's Portrait of Pope Innocent X
Bacon once explained to the British art critic David Sylvester that he was fascinated by the seeming 'isolated position' of the dignitary in Velázquez's portrait. Bacon channeled this psychological disposition in his work, exaggerating it to its extreme.
The Pope screams, a moment of anguish that's frozen in time and hushed to silence so that we feel but not hear his despair, whilst Bacon's quick and abrupt brushwork creates a sense of tension, trapping the subject in the canvas and in his inner torment.
The Pope's face was modeled on a still from Sergei Eisenstein's silent movie Battleship Potemkin (1925) in which an old woman was shot mid-scream during a blood bath killing. In Bacon's painting the horrified look of terror is seared onto the Pope's face for eternity, haunting the subject as well as its viewers.
To commemorate the 20th anniversary of the artist's death Artfinder has worked with The Estate of Francis Bacon to launch the first official digital publication dedicated to the artist, as well as a range of Francis Bacon merchandise. Download the iBook and browse exclusive gifts from the artist's Estate.
Artyfacts:

Margaret Thatcher once famously described Francis Bacon as 'that man who paints those dreadful pictures'.

'I believe in deeply ordered chaos', said Francis Bacon – walls and floors covered in newspapers and broken glass served as paint palettes.

'They were horrified at the thought that I might want to be an artist' – Francis Bacon on his parents.
Related