Update: It has been confirmed to The Huffington Post UK by Eminem's publicist that this is a hoax. Read the full story here.
He famously sang about her when she was just a baby, and now Eminem's little girl has blossomed into a beautiful young woman.
Hailie Jade Mathers has been referenced countless times in her father's songs and as a baby some of her gurglings even made it onto the tracks themselves.
SEE ALSO:
Mentions of Hailie are made on 97 Bonnie & Clyde, My Dad's Gone Crazy, Mockingbird, When I'm Gone, Beautiful, Airplanes Pt. II, Going Through Changes and You're Never Over.
Scroll down for more pictures of Hailie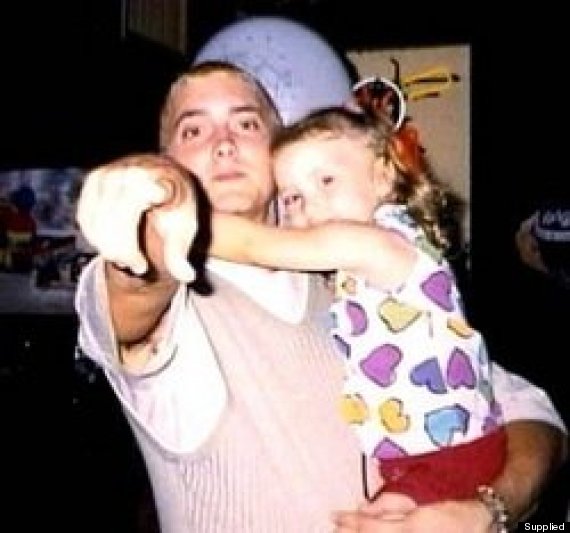 Daddy's girl: Hailie and her father
Eminem, whose real name is Marshall Bruce Mathers III, also penned Hailie's Song, which features the lyric: "My baby girl keeps gettin' older, I watch her grow up with pride," while the toddler chuckles in the background.
No longer a tug-of-love pawn in the ongoing feud between her father and mother Kimberley Ann Scott, Hailie appears to have grown into a beautiful, well-adjusted teenager.
The 16-year-old remains the apple of her father's eye and is one of his biggest fans if her Twitter page is anything to go by.
Posting as "angry blonde", she talks of her father as being "the best" and frequently retweets messages of support for him.
Hailie Jade, Eminem's Daughter
Hailie Jade, Eminem's Daughter