There are Hello Kitty restaurants, hotels, sex toys and now even AEROPLANES.
Yes, the famously expressionless feline is now emblazoned across three Airbus A330-300 crafts.
Taiwan's Eva Air is offering passengers the full Hello Kitty experience with in-flight meals and even a self-service check-in all themed around the cartoon kitten.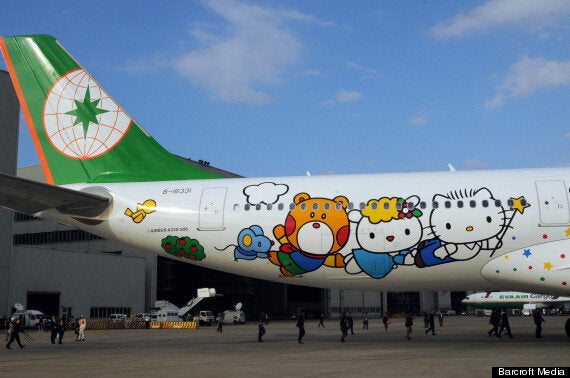 Eva Air have three aircraft decorated with Hello Kitty and her friends
The aircraft are the result of a collaboration between the airline and Sanrio, the Japanese company responsible for the brand.
The themed planes fly between a multitude of destinations, including Taipei, Fukuoka, Narita, Sapporo, Incheon, Hong Kong and Guam.
Literature on the airline's website offers a bizarre explanation for the new livery of one of the planes, which features Hello Kitty and er, some apples.
The concept that inspires the Apple Jet is Hello Kitty Loves Apples
Apples Care very close to Hello Kitty's heart
She is five apples tall and weighs three apples
Her favourite food is her mother's homemade apple pie
Depicted along the fuselage of this aircraft are Hello Kitty and her friends
Who happily share their sweet apples with EVA Air's passengers.
The other two aircraft feature 'around the world' designs and 'magic stars'. As yet there are no explanations for their inspiration.