David Cameron is braced for more damaging revelations about his links with the Murdoch media empire today when his former spin doctor testifies at the Leveson Inquiry.
Andy Coulson will give details of how he came to be appointed as Cameron's director of communications after resigning in disgrace as editor of the News of the World.
The appearance kicks off a potentially bruising couple of days for the Prime Minister, with ex-News International chief executive Rebekah Brooks due to go into the witness box tomorrow.
She could shed light on text message exchanges with Cameron in which he reportedly expressed sympathy over the phone-hacking scandal engulfing the company.
On Wednesday it was alleged that David Cameron texted Rebekah Brooks during the phone hacking scandal, telling her to "keep her head up" in the week that she resigned from News International.
Coulson, 44, became Downing Street's communications chief in May 2010 but quit eight months later, saying controversy over the hacking scandal was making his job impossible.
Downing Street admitted on Wednesday that despite receiving a low level of security vetting, Coulson was likely to have attended sensitive meetings on the Afghanistan war, counter-terrorism activity and the strategic defence review.
The Prime Minister has said that "with 20:20 hindsight" he would not have hired Coulson in May 2007, four months after he resigned from the now-defunct Sunday tabloid over the jailing of royal reporter Clive Goodman for phone hacking.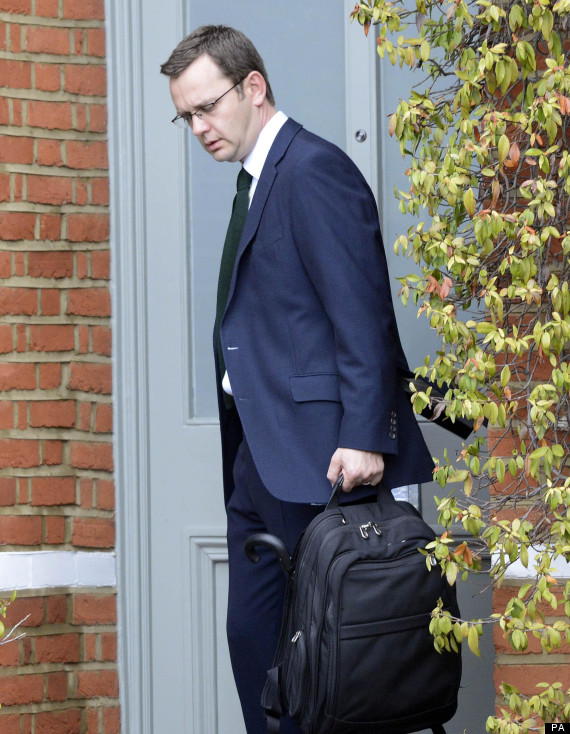 Coulson leaving his home in South London on Thursday. The former NotW editor will give evidence before Leveson on Thursday
The ex-journalist's evidence will be the first time he has spoken publicly since being arrested by Scotland Yard on suspicion of phone hacking and corruption last July. He was bailed and has not been charged.
At the weekend Chancellor George Osborne said Coulson was the "best person for the job" when he was appointed, telling the BBC's Andrew Marr Show he had approached him to see if he was interested.
Coulson's evidence threatens to overshadow Prime Minister Cameron's efforts to relaunch the coalition in the wake of bruising local election results.
It also comes after eight Cabinet ministers - including Cameron, Deputy Prime Minister Nick Clegg and Culture Secretary Jeremy Hunt - were granted "core participant" status in the inquiry last week, giving them the right to see documents and statements in advance.
The move followed calls for the resignation of Hunt after emails released by the inquiry, sent by News Corp lobbyist Frederic Michel, led to claims that he secretly backed the Murdochs' BSkyB takeover bid.
Coulson's appearance comes ahead of further potentially damaging evidence from Brooks, who is likely to disclose details about her close relationship with the Prime Minister.
Brooks, 43, edited the News of the World and The Sun before becoming chief executive of Murdoch's UK newspapers division News International in September 2009.
She and racehorse trainer husband Charlie are key members of the influential Chipping Norton set, along with Cameron and his wife Samantha, and it has been alleged that the Prime Minister texted her, telling her to "keep her head up", in the week she resigned as chief executive of News International.
An updated biography of Cameron: Practically A Conservative claims he told Brooks she would get through her difficulties just days before she stood down over the phone-hacking scandal.
The inquiry has already heard that Brooks regularly met Cameron and other top politicians, along with Rupert and James Murdoch.
She hosted a Christmas dinner on 23 December 2010, just two days after Business Secretary Vince Cable was stripped of his responsibility for media takeovers for saying he had "declared war" on the Murdochs' News Corporation empire.
Brooks's wedding on 13 June 2009 was attended by Cameron and former prime minister Gordon Brown, and Cameron admitted in March that he rode a retired police horse loaned to Brooks by Scotland Yard from 2008 to 2010.
There is speculation that the inquiry could release emails and text messages between Cameron and Brooks, and Brooks is said to have kept all the texts she received from the Prime Minister - possibly more than 12 a day.
Brooks has twice been arrested by Scotland Yard detectives investigating allegations of phone hacking, corrupt payments to public officials, and an attempt to pervert the course of justice. She was bailed and has not been charged.
Further testimony today will come from Lord Rothermere, chairman of Daily Mail and General Trust, which owns the Daily Mail and Mail on Sunday.
Cameron set up the Leveson Inquiry last July in response to revelations that the now-defunct News of the World hacked murdered schoolgirl Milly Dowler's phone after she disappeared in 2002.
The first part of the inquiry, sitting at the Royal Courts of Justice in London, is looking at the culture, practices and ethics of the press in general and is due to produce a report by October.
Lord Justice Leveson indicated last week that the second part, examining the extent of unlawful activities by journalists, may not go ahead.
Coulson's testimony is due a day after Downing Street admitted that its was "probable" that the former editor attended sensitive meetings on counter intelligence and Afghanistan during his time at Number 10 without due security vetting.
The revelation was made during a review of governmental handling of the former press officers' access to sensitive information, specifically Coulson's attendance of meetings in which military matters were discussed, despite having not undergone the same stringent vetting applied to others in the role.
The former News of the World journalist left Number 10 in 2011 following allegations about his involvement in phone hacking at the now defunct newspaper.
Inquiries about Coulson's vetting surfaced later that year, with the government refusing to answer persistent questions by The Guardian newspaper over why the spin-doctor had only been subjected to a low-level security check rather than the "developed vetting" that was standard for access to military sensitive information.
The editor of the Independent on Sunday is also expected to appear at the inquiry on Thursday, after a story published in the newspaper appeared to contain details from Coulson's witness statement.
Leveson has previously ordered that no witness statements or document should be made public until they have been given in evidence at the inquiry.
At the start of today's hearing, he said: "Using the power vested in me under Section 21 of the Inquiries Act I have caused an inquiry to be made of the editor of the Independent on Sunday and I anticipate that as a result he will be interposed at some stage during the course of today's evidence to deal with the issue."
The story revealed that Coulson held shares in News Corporation while he was Cameron's head of communications, at a time when the Government was deciding whether to approve the company's takeover of BSkyB.
It would have meant that he stood to gain financially from News Corp's planned takeover of the digital broadcaster, although Murdoch later withdrew the bid amid last year's hacking scandal.