Drunk passenger Jacqueline Woodhouse has been jailed for 21 weeks after hurling racist abuse at fellow Tube travellers.
The 42-year-old former secretary launched an expletive-laden rant at passengers on the Central line, telling those seated near her: "I used to live in England and now I live in the United Nations."
A seven-minute video of the verbal assault was uploaded to YouTube and viewed more than 200,000 times.
The judge told Woodhouse she would serve half her prison term behind bars and imposed an order banning her from London Underground stations and the Docklands Light Railway (DLR) - or using the Tube or DLR - while drunk, for a five-year period.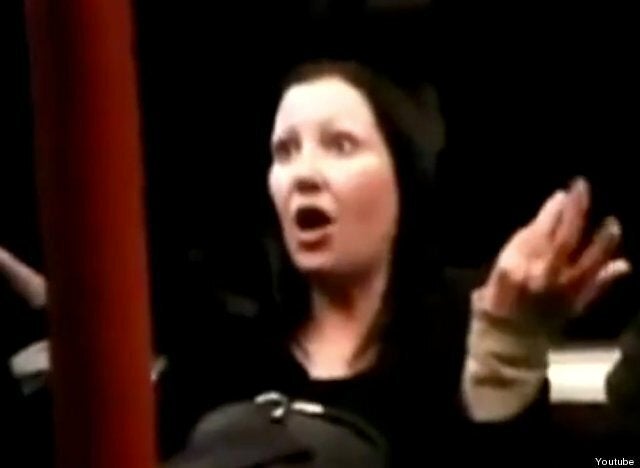 Jacqueline Woodhouse was travelling on the Central Line on her way back from a retirement party when she began the abuse
Condemning her showdown, District Judge Michael Snow at Westminster Magistrates' Court in central London, said: "Anyone viewing it would feel a deep sense of shame that our citizens could be subject to such behaviour who may, as a consequence, believe that it secretly represents the views of other white people."
The defendant, dressed in a dark jacket, sat with her head bowed, occasionally nodding as District Judge Snow issued his damning sentencing remarks.
On the evening of 23 January, he said, Woodhouse drunkenly boarded the Tube at about 11pm.
"The train was packed with people from a variety of ethnic backgrounds," he added.
"The people included children.
"She threatened violence against more than one person and it took place over a prolonged period."
While one traveller was left so shocked by her racist aggression that he no longer felt he could interact with white people on the Tube, another, of Pakistani descent, felt victimised because of his "cultural background" and was left wishing he could afford a car to avoid having to take the Underground, he said.
Rejecting suggestions by Woodhouse's legal team that she felt "deeply ashamed" of her behaviour, the judge added: "I find that assertion very difficult to believe.
"She initially pleaded not guilty. She changed her plea to guilty one day before her trial.
"By this time, she had victimised the witnesses twice over by causing them the inevitable worry of having to give evidence and coming into contact with her again."
Woodhouse was fined following a similar offence on the DLR in December 2008.
In the video of her latest foul-mouthed outburst, filmed by businessman Galbant Juttla, Woodhouse can be heard shouting in a thick Essex accent: "All f****** foreign f****** shitheads."
The former secretary, of Romford, Greater London, turns to other passengers and asks: "Where do you come from? Where do you come from? Where do you come from?
"All over the world, f****** jokers. F****** country's a f****** joke.
"I would like to know if any of you are illegal? I am sure like 30% of you are. F****** jokers taking the f****** piss."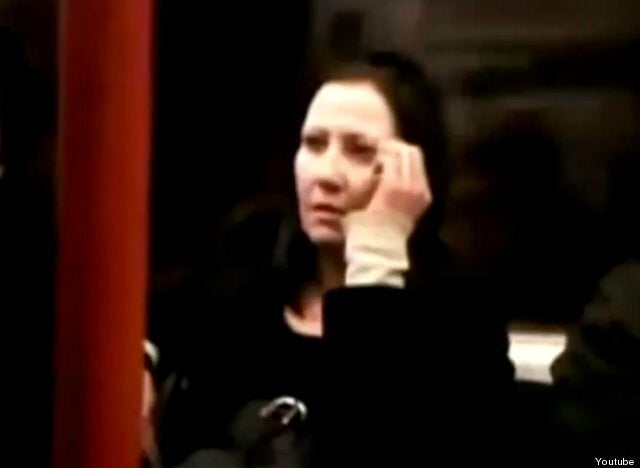 Businessman Galbant Juttla, who was also travelling on the train, filmed her after she became abusive
Prosecutor Claire Campbell said Woodhouse, who has since lost her job and is now claiming benefits, began her stream of abuse after a retirement party when she was feeling a little "worse for wear". She had drunk an unknown quantity of champagne.
Woodhouse sat with her head bowed as CCTV footage of the prolonged rant between St Paul's and Mile End stations was played to the court.
In it she could be seen turning to the Pakistani man sitting next to her, who is singing his national anthem.
"You can f****** sing my f****** dear friend. I hope they f****** catch up with you and shove you off. I will punch you in the face, you are a f****** joke.
"Pakistani f****** losers.
"Ninety percent of you are f****** illegal. I wouldn't mind if you loved our country."
She then turns on Mr Juttla, 47, who assures her he would rather be listening to his music than to her ramblings.
"Oh look, he's filming, hello. Hello government," she says, leaning into the camera.
"Why don't you tell me where you're from?"
Mr Juttla, from Ilford, replies: "I am British."
She gets her phone out of her black handbag and looks as if she is filming him too.
"Watch what you are saying," Mr Juttla warns her.
She replies: "I used to live in England and now I live in the United Nations."
Related