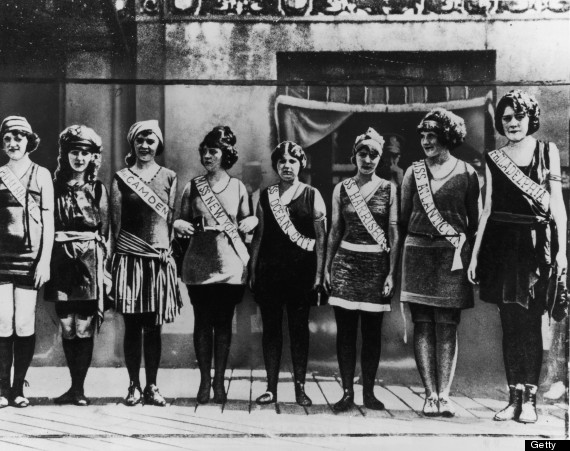 Say cheese: Contestants in the first ever Miss America pageant in Atlantic City, 1921
Posing in stockings, sensible shoes and sporting severe hairstyles, this is the first ever Miss America pageant.
Draped in the now familiar sash and sporting high necked, conservative clothing (although one wildcard is appears to be wearing shorts!), the contestants look somewhat prim and perhaps even a little self-conscious.
Snapped in 1921, the line-up could not be further away from the spike heels, glossy manes and bountiful cleavages of today.
The ladies in this inaugural line-up were photographed on the boardwalk in Atlantic City, New Jersey, with Miss Washington D.C. (Margaret Gorman, second from left), declared the winner.
Scroll down for more pictures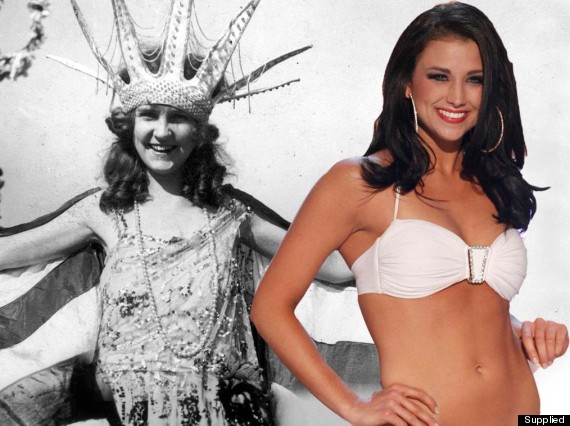 The way she was: Margaret Gorman as Miss America in 1921 (left), and 2012's winner Laura Kaeppeler, right
SEE ALSO:
The pageant was first devised as a way to extend the summer tourist season in the beach-front town.
Atlantic City Chamber of Commerce President Frederick Hickman introduced the event with the words: "Miss America represents the highest ideals.
"She is a real combination of beauty, grace, and intelligence, artistic and refined. She is a type which the American Girl might well emulate."
Gorman, who was 16 when she won the first crown, seemed slightly nonplussed by the whole event, and apparently told the Kentucky New Era: "I never cared to be Miss America. It wasn't my idea. I am so bored by it all. I really want to forget the whole thing."
This year's Miss America is 23-year-old Laura Kaeppeler of Kenosha, Wisconsin.
According to her profile page on the official Miss America website, she is an opera singer, a National Goodwill Ambassador for Children's Miracle Network Hospitals, and dreams of attending law school.
We've compiled some key looks from the Miss America pageants throughout the years. Thanks to Reddit for bringing the first snap to our attention.