Victims of a massacre in Houla, Syria, including children, were "summarily executed", the UN human rights body has said.
Rupert Colville, spokesman for the United Nations High Commissioner for Human Rights, told journalists ahead of a crunch meeting between the UN's envoy for Syria Kofi Annan and the country's president Bashar al-Assad that most victims were murdered in an "abominable event."
"At this point it looks like entire families were shot in their houses.
"It's believed that under 20 of the 108 killings can be attributed to artillery and tank fire," he said.
"Most of the rest of the victims in Taldo, one of the areas of Houla, were summarily executed in two separate incidents. This image purports to show covered bodies after a government assault on Houla, Syria
"What is very clear is that this was an absolutely abominable event that happened in Houla and at least a substantial part of it was summary executions of civilians including women and children."
Reports from the town indicate children's throats were slit during the mass slaughter. Survivors told the BBC on Monday they had to play dead to survive after soldiers entered their homes.
Rasha Abdul Razaq said out of the 20 family members in her house, only four survived: "We were in the house, they went in, the shabiha and security, they went in with Kalashnikovs and automatic rifles.
"They took us to a room and hit my father on the head with the back of a rifle and shot him straight in the chin."
One woman told Human Rights Watch she was sitting with her grandchildren when she heard gunshots and saw men dressed in military uniform walk into the house.
"The children, all aged between 10 and 14, were crying. I went down on the floor and tried to crawl so I could see what was happening.
"As I approached the door, I heard several gunshots. I was so terrified I couldn't stand on my legs. I heard the soldiers leaving. I looked outside the room and saw all of my family members shot.
"They were shot in their bodies and their head. I was terrified to approach to see if they were alive. I kept crawling until I reached the back door. I went outside, and I ran away. I was in shock so I don't know what happened later."
Syria's leaders had claimed its troops came under attack from heavily-armed rebels and were not to blame for the massacre in the town of Houla. However after an emergency meeting on Sunday night, the UN Security Council said the Syrian government was responsible for artillery and tank shelling of residential areas.
It also condemned "the killing of civilians by shooting at close range and by severe physical abuse", adding that the "outrageous use of force" violated international law.
The regime's charge d'affaires in London was summoned to the Foreign Office for a dressing-down over what political director Sir Geoffrey Adams described as "a sickening and evil crime".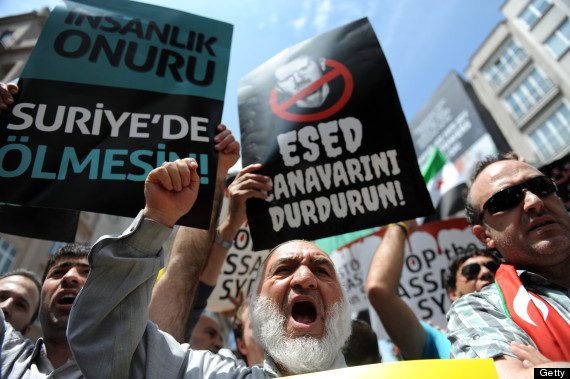 Anger: Demonstrators protest in front of the Syrian consulate in Istanbul
The Telegraph reported on Tuesday that Syrian forces were using rape as a weapon of war against men and women.
Nadim Khoury, Deputy Director for the Middle East at Human Rights Watch told the paper "In detention facilities rape is clearly used as a form of torture to humiliate and degrade people, and to bring back the wall of fear."
The claim comes as Germany, Britain, Canada, France and Australia expelled Syrian diplomats in a mark of growing international discomfort with the country.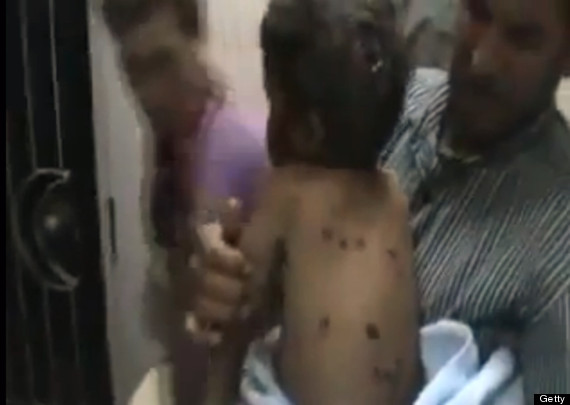 An amateur video claiming to show an injured child in Houla
France's foreign minister Laurent Fabius said in an interview with Le Monde that Assad was butchering his own people, "Bashar al-Assad is the murderer of his people. He must relinquish power. The sooner the better."
SEE ALSO
Warning: some of these pictures are graphic