The Queen arrived for the Jubilee thanksgiving service looking elegant in a fine silk tulle and mint green chiffon drape – and the wives of the political leaders in attendance also wore eye-catching outfits.
Samantha Cameron wore a rose-print Paul Smith outfit and a natty grey beret.
A smiling Justine Thornton, wife of Labour Leader Ed Miliband, plumped for a blue and white ensemble with matching hat. Prime Minister David Cameron and his wife Samantha leave St Paul's Cathedral
Foreign Secretary William Hague's partner Ffion kept the colours low-key, along with Chancellor Osborne's wife Frances.
SEE ALSO:
Queen's Diamond Jubilee: Thanksgiving Service At St Paul's Cathedral Begins With A Fanfare
However, Miriam Gonzales, wife of Nick Clegg, London Mayor Boris Johnson's wife Marina, and former Prime Minister Sir John Major's wife Norma all opted for bright hues.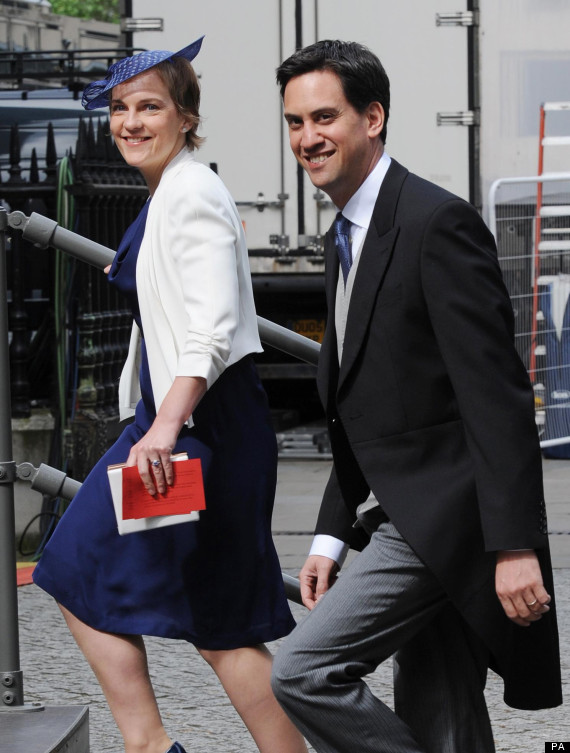 Hue goes there? Labour leader Ed Miliband and his wife Justine
The Queen, accompanied by her lady-in-waiting, Diana Marion, The Lady Farnham, twice waved to the crowd as she walked up the steps.
The service at St Paul's Cathedral featured a sermon by The Archbishop of Canterbury, Dr Rowan Williams, and a speech by David Cameron. Low-key: Chancellor George Osborne and his wife Frances
After the service, the waiting crowd gave the Queen a huge cheer as she left, with the bells chiming in the background.
Much to the crowd's delight, she paused on the steps again to give a quick wave, before being driven away. Bright idea: Deputy Prime Minister Nick Clegg and his wife Miriam Gonzales
Take a look at pictures from Tuesday's Diamond Jubilee celebrations below:
Diamond Jubilee Celebrations