Madness frontman Graham 'Suggs' Mcpherson feared his vertigo would be an issue during the band's historic two-song set on the roof of Buckingham Palace for Queen Elizabeth II's Diamond Jubilee - but the excitement of the occasion kept him focused.
The 80s pop stars played a show-stopping set at the royal residence in London at a special concert to celebrate the monarch's 60 years on the throne on Monday night but the singer was worried his fear of heights would ruin the big gig for him.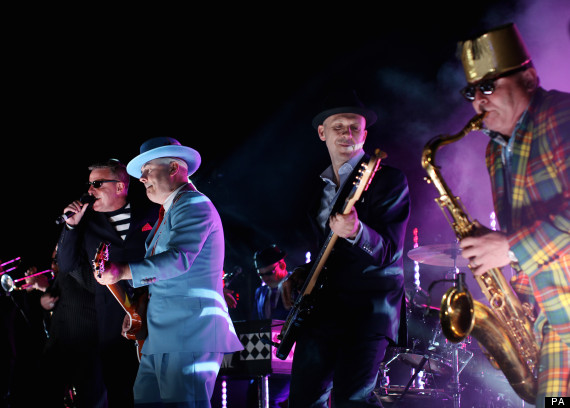 Madness perform on the roof of Buckingham Palace
But when he climbed onto the roof and saw the tens of thousands of flag-waving fans on the streets below, all his worries vanished.
He tells Sky News: "I got an overwhelming experience where I'm the only one who can really see the whole panoply - The Mall and everything else... I do suffer from a touch of vertiginous (sic), but I was so full of adrenaline and overwhelmed by the whole experience."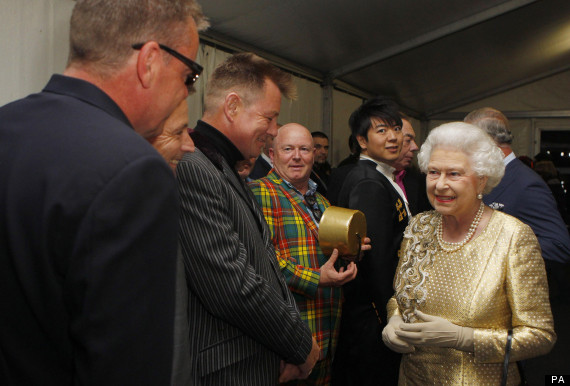 Madness frontman Suggs was overwhelmed to meet the Queen
Suggs also reveals he wasn't the only member of the veteran ska band to be blown away by the event - keyboardist Mike Barson almost freaked out at the big occasion.
He adds: "Our keyboard player had a sort of mini meltdown, going, 'I cant believe I'm playing on the roof of Buckingham Palace. There's Paul McCartney - what are we doing here?'"
MORE: JUBILEE CONCERT REVIEW: From Robbie To Macca...
And the thrills didn't end there for the Baggy Trousers hitmakers - they were also given the honour of meeting the Queen after the show.
Suggs says: "I've never met the Queen before and one of the highlights of my life was after the concert; we all got to meet the Queen. And really, man, when you see her in the flesh, she is the living embodiment of everything that is great about this country, and I don't think we will see the likes of her again."
Diamond Jubilee concert stars in action...