WARNING: Graphic images which some readers may find disturbing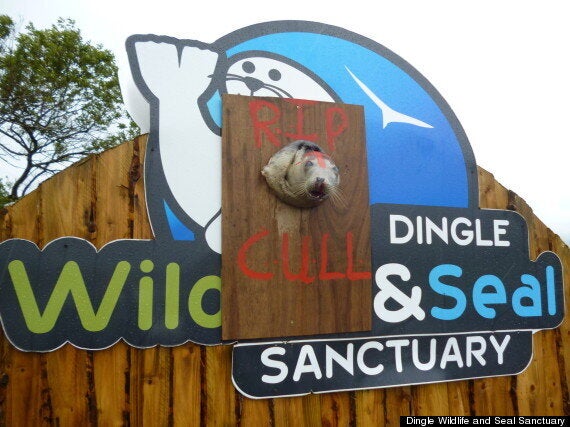 A police investigation is underway after the severed heads of two seals were found nailed to the entrance signs of a wildlife sanctuary.
The gruesome discovery was made this morning at the Dingle Wildlife and Seal Sanctuary in Co Kerry. The heads of a common seal and a grey seal had been mounted on plywood plaques, with R.I.P. CULL and R.I.P I AM HUNGRY painted in red.
Spokesman Ally McMillan said: "We are all very shocked and upset, as Dingle Wildlife & Seal Sanctuary is a public service for people who call in sick and orphaned wildlife, including mainly seal pups.
"Our volunteer run organization is dedicated to rehabilitating and releasing Ireland's wildlife to preserve the natural beauty of the country."
Scroll down for more pictures
She said the seals were believed to be around six-months-old and had been removed by Gardai as part of the investigation.
She added: "We are not opposed to the culling of seals, as long as there is proper scientific research done to support the action and it is done in a controlled and humane way."
No threats had been received in advance of the discovery.
"There does seem to be an issue in the area, but whatever the rights and wrongs, it is impossible to defend what happened last night."
Related